Sports
Luke goes 'back home' for an axis deer hunt
Sep 12, 2019
As hunters and lovers of the outdoors, we all have places that are near and dear to our hearts; places that the mere thought of brings a smile and rekindles great memories. Red River County in northeast Texas is such a place for me. I spent my formative years growing up on our broiler farm in the northern part of the county. Behind our little farm were miles and miles of what remains remote ranch land today. Back in the late fifties and sixties, this was one of the lesser settled parts of the state and even today, when driving the back roads I knew as a kid, one gets the sense of 'going back' to a time when things were much more simple.
Luckily I still have friends in the area that include Mike and Lori Ford, owners of their Rio Rojo Rancho situated in the northwest corner of the county and Mike's mother Molly who has known me since I was a baby. Mike jokes that I was around all his life and changed his diapers.
I always have the rebuttal that, "Mike, do you think a nine-year-old kid had the skills to change your diaper when you were a baby!"
Yes, Mike and his family and my family go back a long ways and I think the world of all of them. I was with Mike's uncle John Earl when I saw my first deer harvested that to the best of my recollection was about 58 years ago!
Today, the deer herd on Mike's ranch is astounding. I recently had the privilege of spending a couple days on the ranch with my new Gearhead compound bow in quest of a big axis buck. The temperature was approaching 100 degrees and probably exceeded that in the hunting blind during the afternoon hunts. I did see some monster axis bucks, heavy of body and antler but none came within bow range and they were moving at first light and again just before darkness and, I'm sure with a bright moon, at night. If I had a couple days to hunt, I'm positive that I could have taken a good buck but we decided to wait till a bit cooler weather to pursue these spotted deer. What I did see and had within bow range was some monster whitetail bucks.
Mike was a deer breeder for years and introduced the best of the best genetics to his self sustaining deer herd. What I saw on this short early September hunt was a far cry from the whitetail deer I remember hunting as a teenager in this part of the state. Good genetics and a great feeding program have proven what can be done with a whitetail deer herd. Many of these 'pasture born and raised' bucks that were 2 years olds sported headgear that far exceeded the biggest bucks I remember being taken in the area when I was a young hunter.
My friend Jeff Rice who is the video guru that co hosts and produces my weekly outdoor video 'blog' came along to hopefully film me arrowing a big axis buck. Jeff was in awe of the size of the whitetail coming out of the heavy cover during early morning and late afternoon to hit the Priefert feeders we were hunting over. Jeff was elated at excellent footage he was able to get of what he described as "the biggest whitetail I have ever had the privilege of filming".
Jeff and I were equally impressed at the design of the feeders that automatically open and close when the slightest amount of moisture falls on a sensor. Mike helped design and perfect these feeders which are now in use all over Texas and many other states.
"I began keeping track of all the feed I lost because of moisture and knew that if there was a way to completely seal off the feed from rain and moisture, the amount of money saved in wasted feed would soon pay for the feeder," says Mike. "I worked with the folks at Priefert and together we produced, thoroughly tested and finally marketed a feeder that has become hugely popular."
One of the feeders not only dispenses protein feed but serves as a corn feeder as well; the two section hopper holds both corn and pelletized feed. These feeders eliminate waste caused by moisture which equates to many dollars during the course of a year.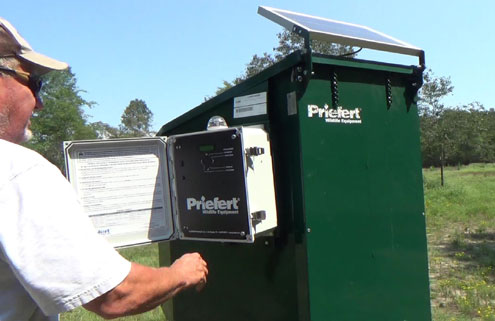 Mike Ford shows off one of the Priefort feeders he help design. These feeders close automatically when the slightest amount of moisture triggers a very sensitive sensor.
Yes, deer hunting in Red River County has come a long, long way from the days when as a boy I would scatter a little corn I robbed from my dad's feed room to hopefully attract deer in the little woodlot behind our farm. I remember getting off the school bus during deer season and taking my little .410 loaded with rifled slugs back to 'hunt' deer behind the house. I was sixteen years old before I took that first buck on my Uncle Jack Conner's place near Bagwell. Back in the sixties, it was a rare sight to see a deer and the mere sighting of deer tracks was enough to get my 'hunting blood' pumping. Little did I know back than that I would one day have the opportunity to hunt true trophy class whitetail close to my boy hood stomping grounds!
It will be interesting to fast forward another couple decades and see the overall benefit of the great genetics that will definitely influence the overall deer herd in not only northeast Texas but all across the state. Hopefully I'll be around to witness the progression of a very positive thing. I'll only be about eighty nine years old and my buddy Mike will be about eighty, just the right age to be considered a 'seasoned' whitetail guide!
The Rio Rojo Rancho has a surplus of big axis bucks and Mike is looking for hunters to help reduce the herd and still has openings for a few trophy whitetail hunts. If you have yet to lock in on a ranch to hunt this season, visit the website first and then give Mike a call, www.riorojorancho.com .
Contact outdoors writer Luke Clayton through his website www.catfishradio.org