Lifestyles
Big changes to Fannin County Fair Photography Contest
Sep 21, 2019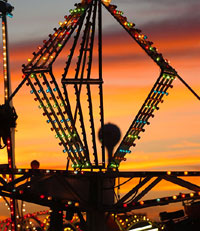 Fannin County, Texas -- The Fannin County Fair Photography contest has some big changes in store for this year. Entries for the contest, open to youth and adults will be displayed at the Fannin County Fair as usual. But the process for turning in those entries has changed and there are some new photo categories for this year.

All entries for the Fannin County Fair Photography Contest are due September 20, 2019 to the Fannin County AgriLife Extension Office (Derrell Hall Education Center) at 2505 N. Center Street in Bonham.

Entries will be judged, placed and finally displayed at the Fannin County Fair from Wednesday, October 2-Saturday, October 5.

Photos must be turned in at the Fannin County Extension Office (Derrell Hall Education Center) 2505 N. Center Street, Bonham, TX, 75418

Age Categories: Children: 2nd grade and younger

Juniors: Grades 3-5

Intermediates: Grades 6-8

Seniors: Grades 9-12

Adults: 19 and over

Entries:

· Participants may enter one photo per category.

· Photos should be an 8X10 photographic print (no frame, matte or mounting). Complete and attach label provided to back of photo.

· A non-glare sheet protector will be provided.

· Every photo entered should be original photographic work of the participant submitting the photo.

· Any photos deemed inappropriate for public display will be disqualified.

· Pick Up: Photos and ribbons may be picked up Saturday evening beginning at 8:30pm. All photos and ribbons not picked up on Saturday, may be picked up from the Extension Office the following week.

Judging: Photos will be judged prior to the County Fair at the County Extension Office by experienced, volunteer judges.

Placing: Exhibitors will receive a Blue, Red, or White ribbon based on judging score. Best of Show and Honorable Mentions (if applicable) will be awarded per age group division.

Photo Categories

Animals Domestic: Photos focusing on the various animals that have been tamed and made fit for the human environment. Examples: dogs, cats, chickens, horses, etc.
Animals Wildlife: Photos focusing on animals not tamed or domesticated and typically found in the wilderness or bodies of water. Includes animals in nature, zoo, and petting zoos. Examples: Birds, deer, elephants, marine life
People: Photos from people of all walks of life.
Landscape and Nature: Photos of landscapes, outdoor scenic, nature images, sunsets, urban landscapes, seascapes, cityscapes, and farms. Examples: Gardens, outdoors, scenic, etc.
Plant and Flora: Photos of flowers, tree, plant, bush (outdoor or indoor). Examples: a rose, a tree, etc.
Catch-All: Photos that do not fit into one of the other categories.
Questions: (903)5837453 or bethany.arie@ag.tamu.edu