Local News
Entertainment options abound at Celina Oktoberfest
Oct 11, 2019
Live music, contests, football action
among the scheduled events
Celina, Texas -- What do you get when you mix live polka music and a bratwurst-eating competition with costume contests and college football? Why, that's Oktoberfest -- Celina style.
The city's second-annual celebration of all things German is scheduled from 11 a.m. to 10 p.m. Saturday, Oct. 12, 2019 in the city's historic downtown square, at West Walnut and North Ohio Streets in Celina. Kicking off with a ceremonial tapping of the keg and traditional toast, this family friendly event will feature a slate of fun activities including entertaining performances, a tempting assortment of food and beverage options, shopping opportunities and more.
Returning this year are the popular Dachshund Derby dog races, as well as authentic German costume contests and Chicken Dance circles for children and adults. A free Kids' Zone will feature bounce houses, seasonal cookie- and pumpkin-decorating activities, a workshop sponsored by Home Depot and opportunities for youngsters to interact with magical unicorn ponies.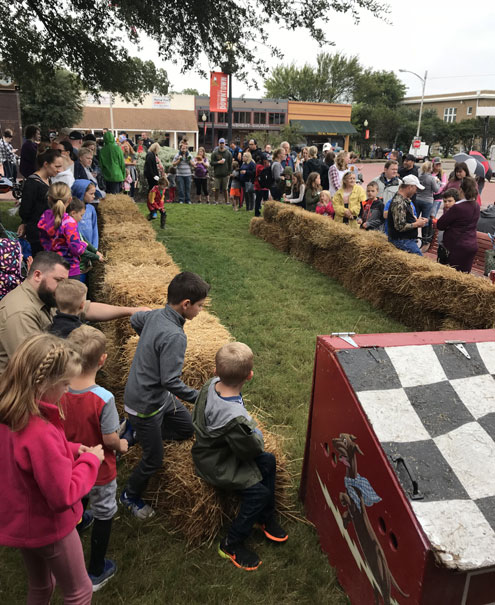 photos courtesy of 4C Media Group
Get your prost on (the German phrase for Cheers!) inside the expansive biergarten that is open to those ages 21 and over, where a beer stein-holding contest and beer pong tournaments are scheduled.
Nodding to the city's longstanding tradition of championship-winning high school football, the day's top college-gridiron matchups will be presented on a massive LED screen that will be set up in the square. Those attending Celina Oktoberfest needn't worry about missing a moment of the exciting action.
"Celina and football go hand in hand, so of course we've incorporated it into our celebration," explained Melissa Cromwell, president of the Greater Celina Chamber of Commerce which produces the event that is sponsored by Landmark Bank. "It's just one of the things that sets Celina Oktoberfest apart from other Fall festival in Texas."
More than two dozen merchandise vendors will set up shop at Celina Oktoberfest, with a variety of authentic German goods as well as handmade items and other interesting products available for shoppers. Be sure to visit the quaint boutiques and other local retailers located on Celina's downtown square, which will be open and offering exclusive sales and specials during the event.
Live music and dance performances are scheduled during Celina Oktoberfest around the square and on the main stage throughout the day and into the evening.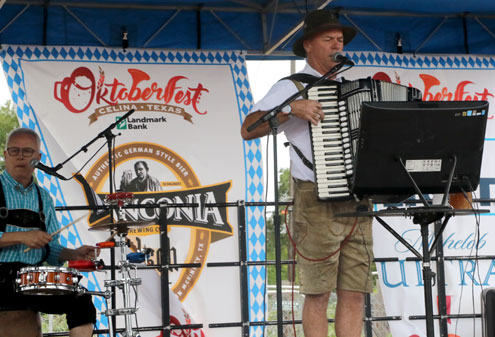 photos courtesy of 4C Media Group
Dallas-based Imperial Brass is a traveling quartet that has released a half-dozen full-length recordings during its two-decade history. Its talented tuba and clarinet players will mingle with Celina Oktoberfest crowds as part of its high-spirited sets.
Also hailing from North Texas, The Royal Klobasneks are dedicated to preserving the traditional American polka that was popular during the 1920s through '40s. Its repertoire also includes waltzes, schottisches, two-steps and fox trots.
"Our audiences appreciate that our music is geared equally toward listening and/or dancing, and that there is something for everyone," explained lead vocalist and accordion extraordinaire Matt Tolentino.
Established in 1979, Texanischer Schuhplattler Verein D'Holzar is the oldest German-style dance troupe in Dallas. Its steppers are volunteers who don native costumes of the Oberallgäu region of southwestern Bavaria while performing historic folkdances.
Auf Geht's Musik is also set to take the Celina Oktoberfest stage. The group's classically trained members have toured throughout the U.S. and Europe, performing Alpine- and western-style yodeling as well as playing unusual instruments including the musical handsaw and alpenhorn, a long, wooden horn favored by mountain dwellers in the Swiss, Austrian, Bavarian and French Alps.
Back by popular demand, Celina Oktoberfest headliners The Dogensteins formed in 2016. The quintet has since become a fixture at festivals throughout North Texas and beyond. Its dynamic players transform rock, pop, country, metal and new-wave chart-toppers into crowd-pleasing polkas, rollicking waltzes and traditional Texas shuffles. "One of our main (goals) is getting … polka music out there," said Wes Kucera, drummer for The Dogensteins. "To take songs that people recognize and change them to a polka or a waltz, that's really kind of cool."
"We're thrilled to offer top-notch, nonstop entertainment at Celina Oktoberfest," Cromwell said. "Whether you're on the square or in the biergarten, from start to finish, there will be music and activities for everyone to enjoy."
Celina Oktoberfest will be presented rain or shine. General admission tickets are $5 per person. Children age 12 and under will be admitted free, as will any attendee who wears a traditional German lederhosen or dirndl costume to the festival. Tickets are available now at https://celinaoktoberfest.com/, as well as at https://www.eventbrite.com/e/2nd-annual-celina-oktoberfest-tickets-67926157967. Same-day tickets will be sold at the gate (cash only).
Alcoholic-drink tickets ($1 each) will be available at the ticket booth during the festival (four tickets for a 12-ounce beer; six tickets for 16 ounces). Commemorative, half-liter beer steins ($10) can be purchased and used at Celina Oktoberfest or kept as a souvenir.
Free parking and shuttles will be at Celina High School, 3455 N. Preston Road, and at Brookshire's Food & Pharmacy Celina, 675 Sunset Blvd. Limited free parking also will be available adjacent to the square at West Pecan Street and North Louisiana Drive. Paid parking ($20) will be located at the Celina ISD Administration Building, 205 S. Colorado St.

For additional information and event updates, visit https://celinaoktoberfest.com/. Follow @CelinaOktoberfest on Facebook, and @celina_oktoberfest on Instagram.