Front Page
Senator Bob Hall begins series of town hall meetings
Aug 14, 2019
Bonham, Texas -- Texas State Senator Bob Hall kicked off a series of 86th Legislative Session Town Hall Meetings by meeting with constituents Tuesday, August 13, 2019 in Bonham.
Sen. Hall began by discussing the 10 proposed amendments to the Texas Constitution that will appear on the November 5 ballot and then offered a review of the recent legislative session.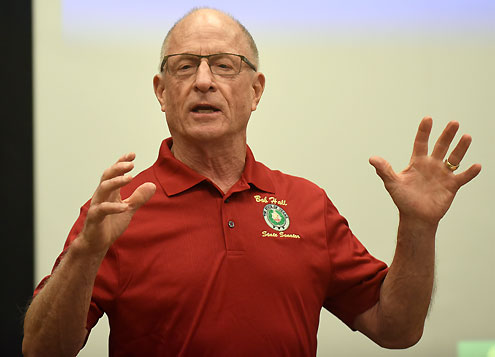 State Senator Bob Hall
The series of public town hall meetings will continue throughout Senate District 2 until late September.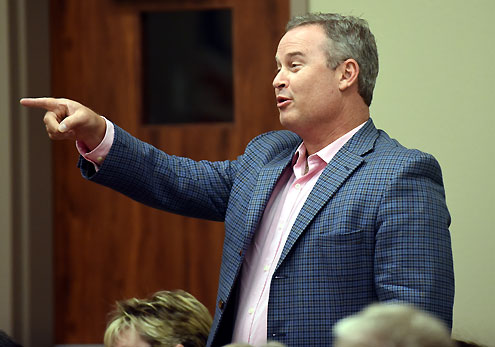 State Representative Reggie Smith also attended the meeting in Bonham.
Schedule of 86th Legislative Session Town Hall Meetings
Tuesday, August 13th:
Bonham, Fannin County 6:00 p.m.- 7:30 p.m.
Bonham City Hall, 514 Chestnut St, Bonham, TX 75418
------------------------------------------------------------------------
Saturday, August 17th:
- Mesquite, Dallas County 1:00 p.m. - 2:30 p.m.
Mesquite Arts Center, 1527 N Galloway Ave. Mesquite, TX 75149

- McLendon-Chisholm, Rockwall County 4:00 p.m. - 5:30 p.m.
M-C City Hall, 1371 W. Farm to Market Road 550, Rockwall, TX 75032
------------------------------------------------------------------------
Saturday, August 24th:
- Quinlan, Hunt County 2:00 p.m. – 3:30 p.m.
Onstead Family Complex, Tx-34, Quinlan, TX 75474

- Greenville, Hunt County 4:30 p.m. - 6:00 p.m.
The Texan Theater, 2712 Lee Street, Greenville, TX 75401
------------------------------------------------------------------------
Tuesday, September 10th:
Forney, Kaufman County 6:30 p.m. - 8:00 p.m.
Forney City Hall, 101 E Main St, Forney, TX 75126
------------------------------------------------------------------------
Thursday, September 12th:
Cooper, Delta County 6:30 p.m. - 8:00 p.m.
Cooper City Hall, 91 N Side Square, Cooper, TX 75432
------------------------------------------------------------------------
Monday, September 16th:
Canton, Van Zandt County 7:00 p.m. - 8:30 p.m.
American National Bank Canton, 1591 TX-19, Canton, TX 75103
------------------------------------------------------------------------
Saturday, September 21st:
Sulphur Springs, Hopkins County 2:00 p.m. - 3:30 p.m.
Hopkins County District Courtroom- 2nd Floor, 118 Church St, Sulphur Springs, TX 75482
-------------------------------------------------------------------------
Saturday, September 28th:
Emory, Rains County 10:00 a.m.- 11:30 a.m.
Emory City Centre, 735 N Texas St, Emory, Texas 75440
------------------------------------------------------------------------