Local News
Bring the beauty of bulbs to your landscape
Aug 12, 2019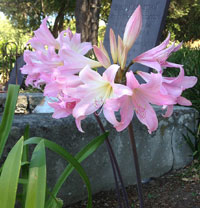 Collin County, Texas -- The Collin County Master Gardeners Association presents their Annual Online Bulb Sale. CCMGA is offering 50 different amaryllis, daffodils, iris, day lilies and other bulbs. These Texas-tough plants will add color and beauty to the garden and are not usually found at the local big box stores. Donít miss the opportunity to purchase the 2020 CCMGA calendar and Water Uís Top 100 cards as well!

The online-sale will run from August 15-31 with pick-up at the Show Barn at Myers Park & Event Center on Friday, October 11 from 3:00 p.m.-5:00 p.m., and during the 2019 Fall Plant Sale on Saturday, October 12 from 9:00 a.m.-1:30 p.m. You wonít want to miss that event, so mark your calendars!

This fall fundraiser benefits CCMGA community outreach and educational programs in Collin County. Visit the CCMGA website for more information or call the Collin County Master Gardeners Association at 972-548-4232.