Local News
Quilt lovers can get a jump on the Hop
Jul 22, 2019
Getting a jump on the Hop
Bonham, Texas -- The 10th Annual Quilt Hop in Bonham is set for Friday, July 26 and Saturday, July 27, but quilt lovers who can't wait that long to get an early glimpse of some of this year's quilts on display can drop by Sam Rayburn Library or Creative Arts Center this coming week.
Almost two dozen quilts from the Dolph Briscoe Center for American History at the University of Texas at Austin's Dreaming of the Stars exhibition from the Astronomical Quilts! Block Challenge Collection are already on display, with 23 quilts at Sam Rayburn Library and 10 quilts at Creative Arts Center.
Among the quilts currently hanging at Sam Rayburn Library is one with a quilt block that was hand sewn by NASA astronaut Karen Nyberg while serving aboard the International Space Station in 2013.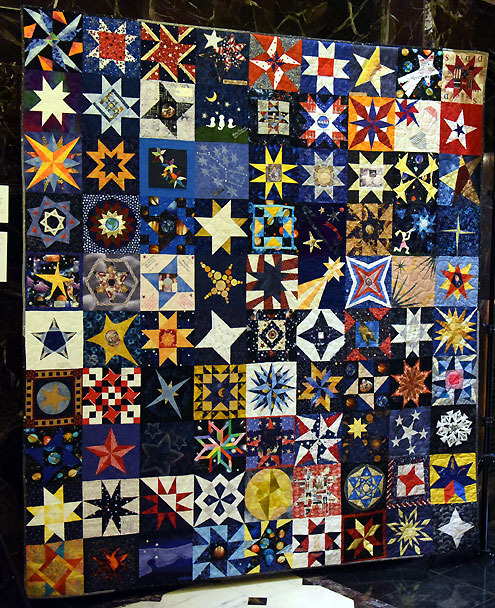 These quilts feature astronomical-themed designs and fabrics. Although the vast majority of the blocks were made in the United States, many others were sent from around the world including Russia, Canada, England, Israel, Venezuela, Norway, Ireland, Mexico, Uruguay, South Africa, Japan, Scotland and Costa Rica. A close examination will reveal a wide range of sewing skills on quilt blocks displaying rockets, planets and stars.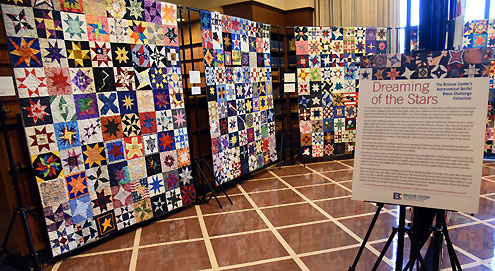 For more information on Dreaming of the Stars, please call the Sam Rayburn Museum at 903-583-2455 or email e.trent@austin.utexas.edu.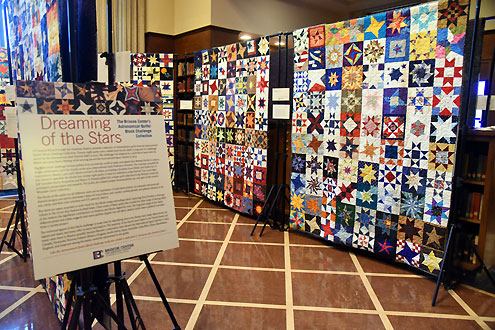 The Creative Arts Center will also have astronomical-themed quilts from the Dreaming of the Stars collection on display all week, including a quilt that consists entirely of blocks created by children. One block was signed by a six-year-old.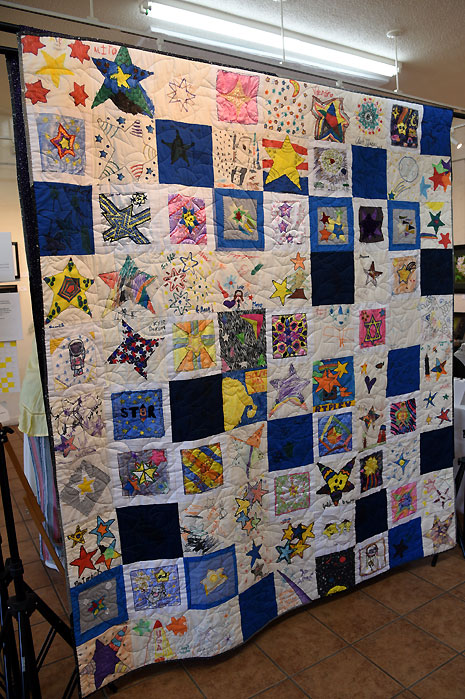 In all, Creative Arts Center will have 10 quilts on display this week, many featuring the handiwork of fabric artists from around the globe. For example, this block was sent in from Victoria, Australia!
Creative Arts Center is located at 200 West 5th Street in Bonham.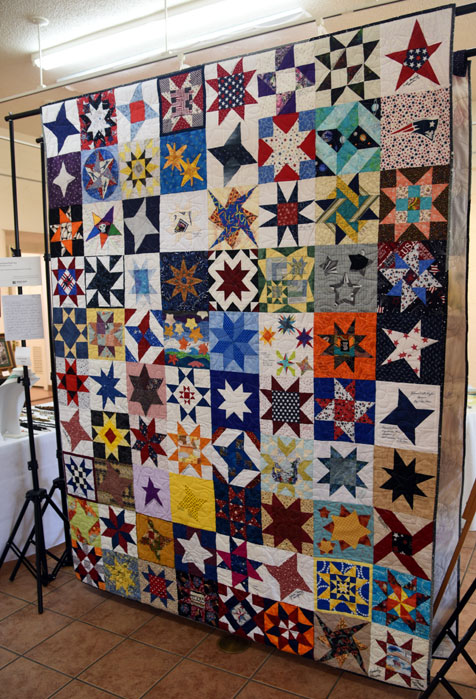 Once the Quilt Hop begins July 26, the Sam Rayburn House State Historic Site will have five more quilts on display from the Dreaming of Stars collection. The Sam Rayburn House State Historic Site, one of 22 historic attractions operated by the Texas Historical Commission, is located at 890 West State Highway 56 in Bonham.
Don't miss this chance to see hundreds of quilts on display at 10 locations during the 2019 Bonham Quilt Hop, which is slated for Friday, July 26, and Saturday, July 27, from 9:00 a.m. to 4:00 p.m.
For more information on the Bonham Quilt Hop, please contact the Bonham Visitors Center at 903-583-9830.