School News
'Magical Balloon Guy' at Bonham Armory July 23
Jul 22, 2019
Bonham, Texas -- The Bonham Public Library presents: Magical Balloon Guy at 10:00 a.m. Tuesday, July 23 at Bonham Civic Center (Armory) for the "Readers Strike Back Balloon Show." You will be amazed, inspired, and entertained. Robb has a unique way of entertaining and educating your children at the same time. This is our last performer of the summer.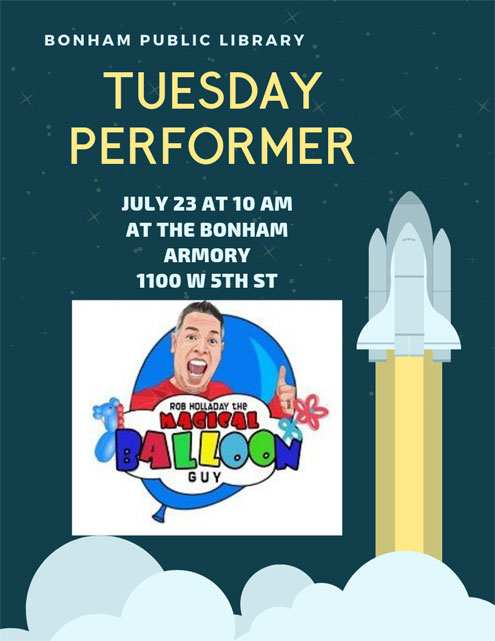 Our Summer Reading Program Celebration Party will be July 30 at 10:00 a.m. - noon at the Bonham Armory. We will have the Frontiers of Flight Museum bring a Mobile Planetarium and 8 STEM stations. We appreciate Chi Lambda for sponsoring them. We will also have robotics and crafts for you to do. There will also be Hot Dogs and Ice Cream for you to eat. Thanks to Legend Bank and Brookshire's for donating the water, hot dogs and ice cream.
This is going to be a party you don't want to miss.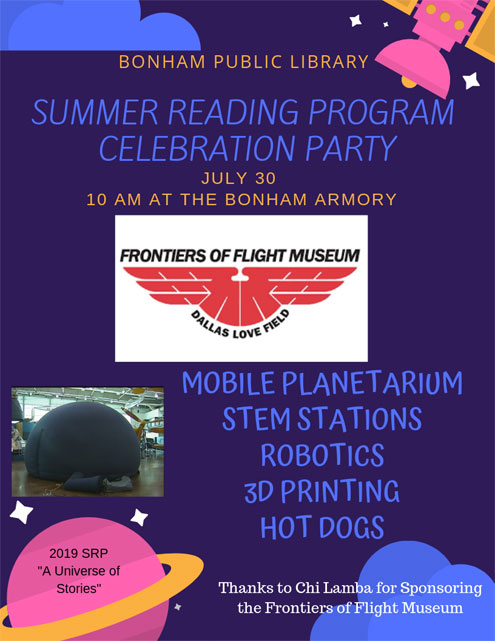 Thanks for being a part of our Summer Reading Program. We had over 530 registered this year. Thanks to all of those who have sponsored us, gave coupons and gift cards for us to give away.