Local News
Paris Balloon and Music Festival this weekend
Jul 19, 2019
Paris, Texas -- The Paris Balloon & Music Festival is all set to take off Friday and Saturday, July 19-20, at Lamar County Fairgrounds, 570 E. Center Street in Paris, Texas.
Gates open at 5:00 p.m. with tethered balloon rides, Kids Zone's carnival rides, arts and craft vendors, plus food truck vendors.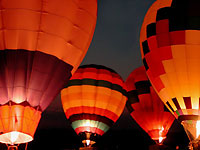 The balloon glow at dusk on Friday and Saturday makes great photos!

Weather permitting, balloons will launch from the fairgrounds at 6:30 a.m. Saturday, July 20 and Sunday, July 21.

Live music is scheduled for Friday and Saturday, from 6:00 p.m. until the event closes for the night.

On Friday, it will be Road Scholars and Rhythmaddicts.

Saturday evening's performance will feature the Slightly Used Band followed by Rue 82.

Tickets are $5.

For more information, please visit the Paris Balloon & Music Festival page on Facebook.