Sports
Top fishing spots in Oklahoma
Jul 17, 2019
Oklahoma offers some amazing opportunities for trout fishing all year round, from well-stocked lakes to great trout rivers. If you're looking for great spots to fish, here are some of the top locations in Arkansas, brought to you by Fly Fisher Pro.
Lower Illinois River
If you're looking for year-round fishing in the state of Oklahoma, the Lower Illinois River is one of your best bets: it teems with brown and rainbow trout all year round.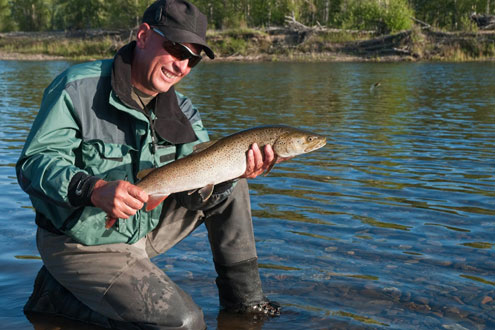 Easily accessible, this river is stocked every week so you stand a good chance of an impressive catch!
Lower Mountain Fork River
One of the most popular trout fishing spots, you'll have your pick of 12 miles of well-stocked trout stream to fish. The river banks are easy to access and offer plenty of great spots to set up for the day. Just make sure you're aware whether you're in the Blue Zone or the Red zone, as the regulations differ in each area.
Blue River
The clear, sparkling waters of the Blue River makes it the ideal location for fishing between November and March, when the river is stocked biweekly. The river has real character, from waterpools to riffles, deep pools, and shallower stretches. You can even camp out on the river bank for free!
Lake Watonga
Lake Watonga isn't the largest lake in Oklahoma, coming in at just 55 acres. However, don't disregard it because of this or you'll miss out on some excellent fishing opportunities! Smack bang in central Oklahoma, there are regular stockings all winter and some fun trout fishing tournaments in the spring.
Lake Carl Etling
Lake Carl Etling, located in the Black Mesa State Park, is the perfect spot if you're after a calm, peaceful day out fishing. With over 5 miles of banks, it's one of the best lakes in the state for trout fishing. Our top tip: Head for the south bank berms for the best fishing!
Robber's Cave State Park
Robber's Cave is another tempting location for anglers, due to the healthy trout populations and easily accessible river bank. There are plenty of amenities nearby and regular trout stockings from November 1 to March 15. Head to Robber's Cave if you prefer to wade while fishing, as it's a great spot for getting into the water.
Medicine Creek
If you're looking for an escape from your busy life, head to Medicine Creek, where you'll be able to enjoy the peace and quiet of the river. The fly fishing opportunities are impressive, especially in the designated trout area downstream from Gondola Lake Dam. Avoid the west bank if you can, as most of it is private property.
Dolese Park Pond, Oklahoma City
Thanks to the 'Close To Home' fishing program that runs throughout the Sooner State, you'll find good trout fishing right within Oklahoma City. Between December 1 and February 28, the Dolese Park Pond is regularly stocked, offering up some of the best urban trout fishing around.
There you have our top recommendations for fishing in Oklahoma. Whether you're a beginner or a pro, you'll be set up for success in any of these great trout fly fishing locations! Check out the full article linked above!