School News
Summer Camp at the Creative Arts Center
Jul 27, 2019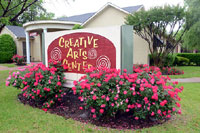 Bonham, Texas -- There is one more chance for your child to enjoy a week of Summer Camp at the Creative Arts Center. From July 29 through August 2, camp will be offered with Theater Class in the morning from 10 to 12:00 and Art Class in the afternoon from 12:30 to 2:30. Children may participate in either class for $60/week or both classes for $100/week. There is a sibling discount of $10 and scholarships are available.

Theater Class teaches a wide variety of life skills - responsibility, working as a team, speaking in front of a group and many more. The class will present a short skit on Friday so parents can see what they've learned. Art Class is a no-pressure outlet for creative kids who will work on numerous art projects in assorted media. Their artwork will be presented at the end of the week.

Eric Vest is the camp instructor and has been one of the center's most popular camp teachers. Parents are asked to sign their children up in advance by coming by the Creative Arts Center. Enrollment forms are available at the center and online at www.creativeartscenterbonham.com.