Local News
Public hearing scheduled for FM 1461 improvement project in Collin County
Jul 17, 2019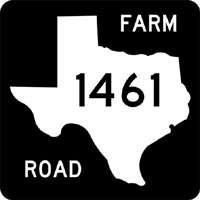 Collin County, Texas -- The Texas Department of Transportation (TxDOT), as the lead agency, in conjunction with Collin County and the cities of Celina, McKinney, and Prosper, are proposing to widen Farm to Market (FM) 1461 from State Highway (SH) 289 to Country Road (CR) 123 in Collin County, Texas. TxDOT will host a public hearing to present the planned improvements and to receive public comments on the proposed project.
The hearing will be held on Thursday, July 18, 2019 at Rhea's Mill Baptist Church at 5733 North Custer Road, McKinney, Texas 75071. Displays will be available for viewing at 6 p.m. with the formal hearing starting at 7 p.m.
The FM 1461 proposed improvement project would reconstruct and widen FM 1461 from SH 289 to CR 123 within the cities of Celina, McKinney, and Prosper in Collin County, Texas, a distance of approximately 7.10 miles. Proposed improvements would include:
· Expanding the two-lane rural highway to a four-lane urban highway
· Constructing one 12-foot-wide travel lane and one 14-foot-wide outside shared-use lane in each direction
· Building a proposed median to accommodate an ultimate six-lane facility in the future
· Adding sidewalks along the east and westbound lanes
The existing right-of-way (ROW) width is approximately 90 feet wide. The proposed ROW is anticipated to be approximately 172 feet and would require approximately 58 acres of new ROW. No residential or non-residential displacements are anticipated.
The proposed project is anticipated to be let for construction in the summer of 2022 and will take approximately two to three years to construct. The estimated total cost for the project is $66 million.