Lifestyles
Archer Western Construction supports the Honey Grove Library
Jun 17, 2019
Honey Grove, Texas -- The Honey Grove Library and Learning Center is delighted to receive a donation of $2,500 from Archer Western Construction, the construction manager at risk for the reservoir and dam of the Bois d'Arc Lake program which is being constructed for the North Texas Municipal Water District.
Shown in the photo are Malinda Allison of the Friends of the Library, Johnathan Polak, Assistant Project Manager of Archer Western, Rhonda Cunningham of the Hall-Voyer Foundation and Wayne Pursley, Senior Project Manager of Archer Western.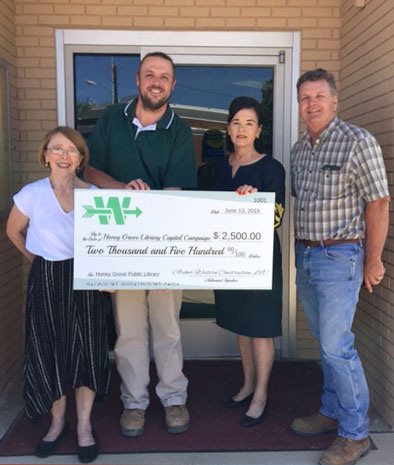 Archer Western is committed to investing in the communities where they work and live. Their story of growth and development is rooted in the neighborhood environment. From working with local organizations to repairing houses, Archer Western is dedicated to giving back to enhance the future for others.
Mr. Pursley said: "Upon learning about the Honey Grove Library and its importance to the Honey Grove and surrounding communities, we knew that there was no better way to invest in Honey Grove than to help to strengthen the Library. The improvements being made to the Library through the Capital Campaign are very impressive, and we wanted to be a part of it."
The Honey Grove Library and Learning Center, which is financed primarily through the Hall-Voyer Foundation, is housed in several beautiful buildings on the Honey Grove Square which were in need of repairs and upgrades. Last year a Capital Campaign was launched to raise funds for this work which, thanks to the support of many, is now underway.
Rhonda Cunningham of the Hall-Voyer Board said: "We greatly appreciate this contribution from a major contractor of Bois d'Arc Lake and the commitment of Archer Western to the Honey Grove Library."