Local News
Public Notice – Fannin County Electric Cooperative scheduled power outage June 20-21
Jun 20, 2019
Public Notice
Fannin County Electric Cooperative scheduled power outage
Fannin County, Texas -- Fannin County Electric Cooperative (FCEC) has a planned electrical outage for converting voltage as part of the electric line upgrade project north and west of Leonard. This voltage conversion along with additional projects in the area will improve reliability and increase the capacity of our system. FCEC has contracted Southern Electric Corporation of Mississippi for this conversion. The conversion will require switching the transformer voltage at most customer locations which will also require pulling the meters at these locations.
The dates of the conversion were originally June 19 and June 20 and are now moved back one day to June 20 and June 21.
The conversion will be divided into different sections to shorten the outage times. Power to your location could be out more than once during this two day period. No outage will start before 8:30 a.m. each morning and the outages could last up to four or five hours. The voltage conversion area is shown on the map below.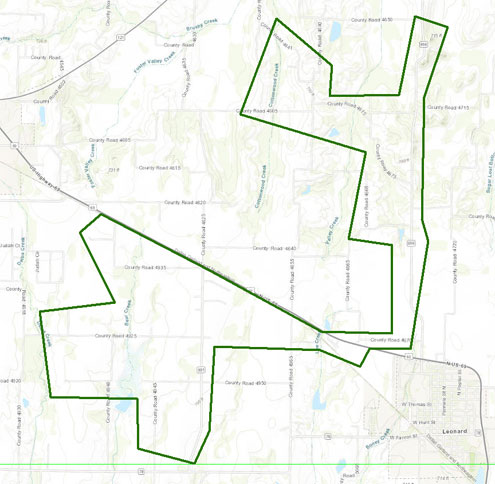 We appreciate your patience during these outages. FCEC and our contractors will do everything possible to keep these outages as short as possible.
FCEC will update this notice if any changes are made due to weather or other circumstances.