Local News
Public meeting scheduled for FM 1378 at FM 3286 intersection improvement project in Collin County
Jun 18, 2019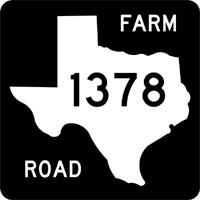 Collin County, Texas --
The Texas Department of Transportation (TxDOT) is proposing intersection improvements to Farm-to-Market (FM) 1378 (W. Lucas Rd. & Southview Dr.) & FM 3286 (E. Lucas Rd.) from Edgefield Ln. to Arthur Ct. and from Southview Dr. to Lost Valley Dr. in Collin County, Texas. An open house has been scheduled to present the planned improvements and to receive public comment on the proposed project.
The public meeting will be held on Tuesday, June 18, 2019 at the Carrie L. Lovejoy Elementary School, located at 256 Country Club Rd. in Allen, Texas 75002. The meeting will be held in an open house format from 6 p.m. to 8 p.m.
The proposed project would reconstruct, reconfigure and widen the intersection of FM 1378 & FM 3286 in Collin County.
The proposed expansion would include:
Widening the two-lane rural roadway to a four-lane roadway near the intersection

Two 12-foot wide travel lanes in each direction on E. Lucas Rd. and W. Lucas Rd. with a 10-foot wide trail on the north side of Lucas Rd.

One 12-foot wide lane and one 14-foot shared-use lane in each direction on Southview Dr.

Dual left-turn lanes westbound and northbound and dedicated right-turn lanes eastbound and northbound

Medians to accommodate the future ultimate six-lane facility on FM 1378
The existing right of way (ROW) width on W. Lucas Rd. is 60 feet, on E. Lucas Rd. it is 120 feet, and on Southview Dr. the ROW varies from 60 to 90 feet and will increase with the ultimate proposed project. The proposed ROW is anticipated to require approximately 3.2 acres to expand the roadway, based on preliminary level of design. No residential or non-residential displacements are anticipated.
The proposed project is anticipated to be let for construction in May 2023 and will take approximately 1.5 years to construct. The estimated total cost for the project is $3.6 million.