Obituaries
Johnny E. Leathers
May 17, 2019
Clarendon, Texas -- On Tuesday, May 14, 2019, Johnny E. Leathers, 98, went to be with the Lord. Services will be 10:00 a.m. Saturday, May 18, 2019 in First Baptist Church in Clarendon, Texas with Brother Richard Leathers and Rev. Larry Capranica, officiating. Burial will follow in Citizens Cemetery in Clarendon.
Visitation will be from 5:00-7:00 p.m. Friday at the funeral home. Arrangements are by Robertson Funeral Directors of Clarendon.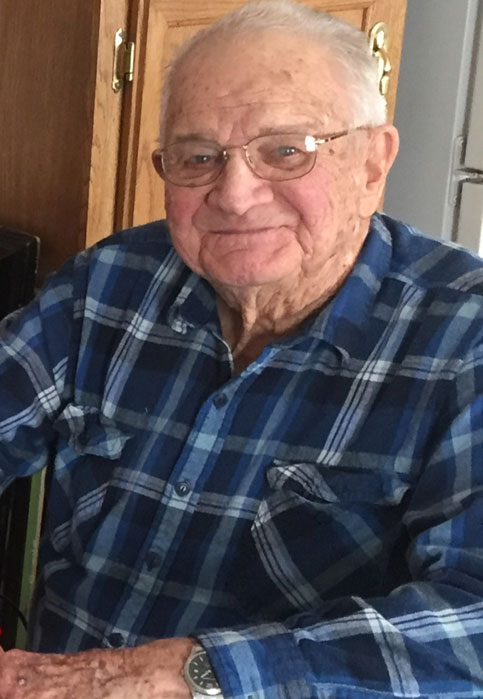 Johnny was born in Clarendon, TX to D.E. and Grace Batson Leathers on April 11, 1921. He attended school at Lelia Lake before transferring to Clarendon, where he graduated from high school in 1939. As a high school student, he enjoyed showing calves and won many awards one of which was Grand Champion. His family won a contest sponsored by the Ft. Worth Star Telegram in 1940 to become known as America's Most Typical All-American family. He joined the U.S. Navy during World War II, where he served as a Navy Corpsman with the 4th Division Marine Corps. After the war, he finished college at Texas Tech University in 1950. He married Betty Murray from Gatesville, TX that same year. They were married until her death in 1981. He married Melba Brown in 1985. Johnny was a school teacher and farmer. He began his career teaching Agriculture at Tulia, and then transferred to Hedley where he taught junior high science. Finally, he transferred to Clarendon ISD, where he taught junior high science for over 25 years. He truly cared for his students. He retired from teaching in 1985. He was active with the Boy Scouts in the 1960's as an assistant Scout Master. He was a Christian who loved the Lord. He was very active in the First Baptist Church in Clarendon, where he was a Deacon, and Chairman of Deacons. He loved his family and will be greatly missed.
He is survived by his two sons, Richard and his wife Angela of Bonham, TX and David of Tulsa, OK; three grandchildren, Amber, Timothy and his wife Krystal, and Matthew; six great grandchildren, Antonio, Jackson, Emma, Ian, James, and Maddox. He also leaves behind many friends and family. We want to thank Gina and Karen from Heart to Heart Hospice for their wonderful care of Johnny during his last months.
He is preceded in death by his parents, D.E. and Grace Leathers; a sister, Jean Williams; first wife, Betty, second wife, Melba Brown, and daughter-in-law, Lorrie Leathers.
Local Arrangements by Wise Funeral Home.
SIGN THE ONLINE GUESTBOOK AT WWW.ROBERTSONFUNERAL.COM and at WWW.WISEFUNERALHOME.COM