Lifestyles
Gone...but not forgotten
Aug 3, 2020
Editor's note: This story was originally published several years ago in an attempt to highlight the history of small Fannin County Cemeteries.
Randolph, Texas -- It looks just like another dirt road leading to an overgrown cemetery in Fannin County. But there is a chance that even former First Lady Laura Bush would be interested in an historic cemetery about five miles west of Randolph, Texas. After all, down this road is the final resting place of Mrs. Bush's great-grandparents and great-great-grandparents.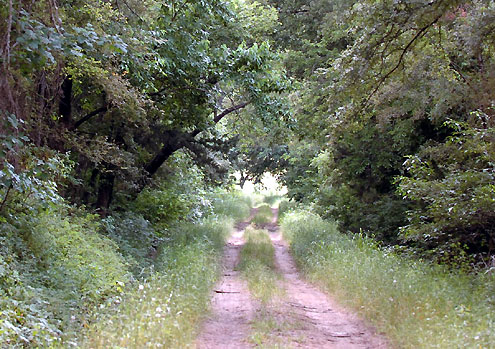 The gravestones in Porters Chapel Cemetery tell a story of the fragile nature of life in frontier Texas. Many are upright and in good condition, but probably many more have fallen and are slowly being covered by the soil that covers their namesake.
Such is the case with a gravestone dedicated to the sacred memory of Martha J. Lainhart, a gravestone that is quickly disappearing beneath the vines.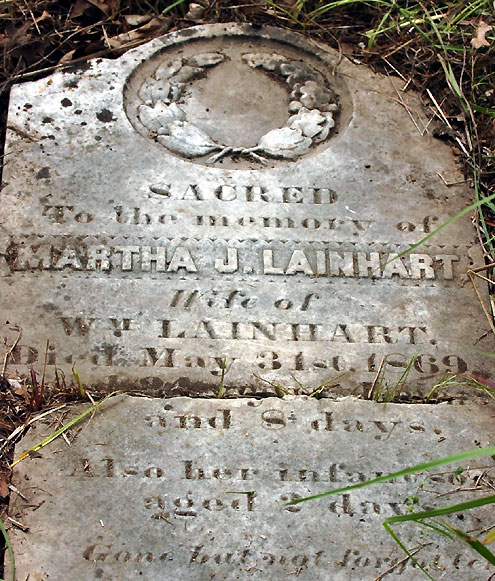 It was the last day of May, 151 years ago, that Martha's family stood on this very spot to say goodbye. Etched in the stone, most likely by a grieving husband who wanted to record every moment his wife had lived, were the words...aged 24 years, four months and eight days.
But Martha's days were many when compared to the infant son buried in her arms who only lived two days.
A little time spent in this very special place will turn up gravestones of our ancestors born two centuries ago. According to the TXGenWeb page (http://www.rootsweb.ancestry.com/~txfannin/cemeteries.html), the first burial at Porters Chapel Cemetery was in 1851 when Jane Scott laid one of her children to rest here. Jane had left Georgia earlier that same year and settled in Orangeville. The gravestone of Jane's sister, Elizabeth Lathers, is still visible, although difficult to read.
But back to Fannin County's ties to our nation's First Lady.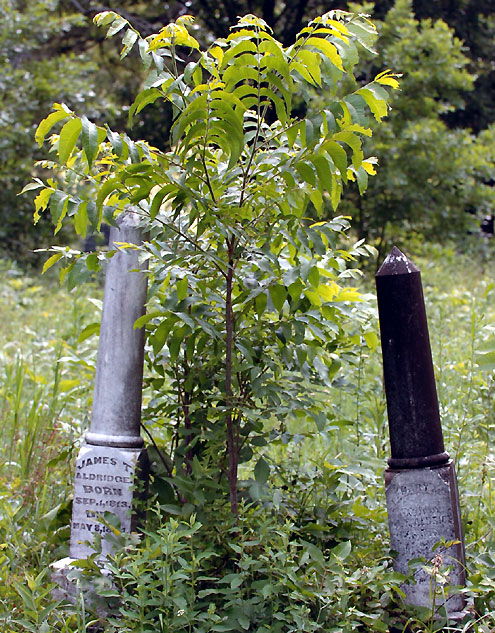 Gravesites of James T. and Mary Chadwell Aldridge, great-great-grandparents of America's First Lady, Laura Bush.
This local connection to Mrs. Bush turned up because of the due diligence of Robin Warren, Barbara McCutcheon and other members of the Fannin County Historical Commission.
Thanks to the research of Robert Battle and William Addams Reitwiesner (http://www.wargs.com/political/welch.html), we know that Mrs. Bush's great-grandparents, Dr. William Franklin Welch and Nancy Jane Aldridge Welch are buried in Porter's Chapel Cemetery, as are her great-great-grandparents, James T. Aldridge and Mary Chadwell Aldridge. James T. and Mary Aldridge left Marshall County Tennessee in the 1860s and the 1870 census has them living in Fannin County, Texas, where James was a blacksmith.
Again, according to the work of Battle and Reitwiesner, James and Mary brought their daughter, Nancy Jane Aldridge, to Texas and she would later marry Alabama native, Dr. William Franklin Welch. William and Nancy, Laura Bush's great-grandparents, are listed among those buried in Porters Chapel Cemetery, however their gravesites have been lost.
Porters Chapel Cemetery is suffering the same fate as many of the first cemeteries across rural North Texas. These cemeteries are now located in isolated areas, which is one reason visits are serene to the point of being surreal, but that isolation also allows vandalism by two-legged and four-legged visitors. Although four wheeler tracks run through Porters Chapel Cemetery, a large population of feral hogs seem to be causing the most obvious damage. The wild hogs have rooted up several parts of the cemetery.
In another remote cemetery on the far east side of Fannin County, four-wheeler tracks also run through Rehobeth Cemetery. This burial place has no connection to the First Family, but it was the first place of worship in this part of Fannin County, although the historical marker that proclaims this as holy ground in early Texas has been shot so many times, it is very difficult to read.
A letter sent to North Texas e-News by a descendant of settlers buried at Rehobeth Cemetery explained there were more difficult images to deal with than the demolished historical marker.
I have been researching my family history and traced them to this cemetery. I flew from Sacramento, California to Little Rock, Arkansas and my son and I drove to Bonham. I was very disappointed by the condition of the cemetery. I am 60 years old and my 32-year-old son and family were with me. We had to wade through tall grass and brush to find a couple of the graves. At the back of the cemetery, there were some crypts that had been busted open and bones were scattered about. It looked like people had been four wheeling in there.

I realize that Bonham is one of the oldest towns in Texas and Rehobeth Cemetery is a historical site. It is such a shame to see it in this condition. When you research on the internet, it sounds like a nice place. We drove to the cemetery with such excitement and anticipation to be able to visit the graves of my grandparents. What a shock this was...
The writer pointed out that early settlers told of an eight-sided chapel erected at Rehobeth Cemetery in the 1850s. To guard against attacks from Indians that still roamed this section of North Texas in those days, armed men stood watch in every direction during funerals and camp meetings.
Families have moved on; cities and counties are struggling with unfunded mandates handed down from state and federal legislatures. So, how can Texas do right by the sons and daughters of pioneers that now sleep in forgotten fields?
As recently as the 1990s, Texas had the dubvious distinction of having the fastest growing prison system in the United States. Is there a chance that a volunteer prison labor force would want to restore the gravesites of frontier Texans? That answer is several pay grades above any simple, small-town journalist. However, if I ever need time off for good behavior and they ask for volunteers to make the final resting place of the ancestors of America's First Lady a place we can all be proud of, I think I would raise my hand.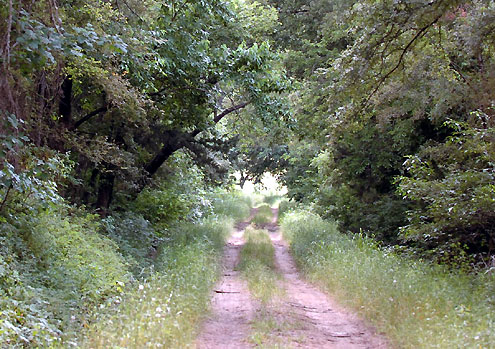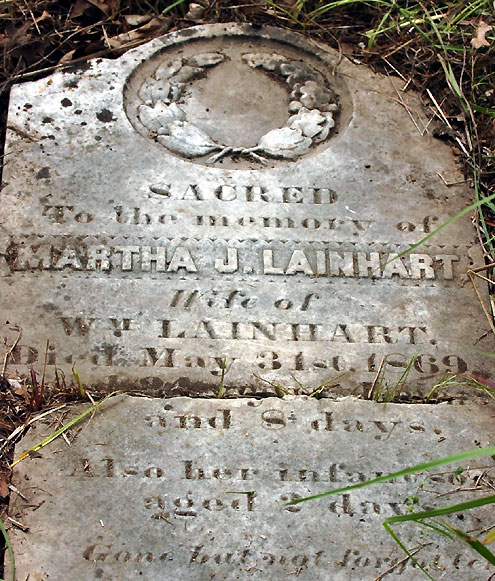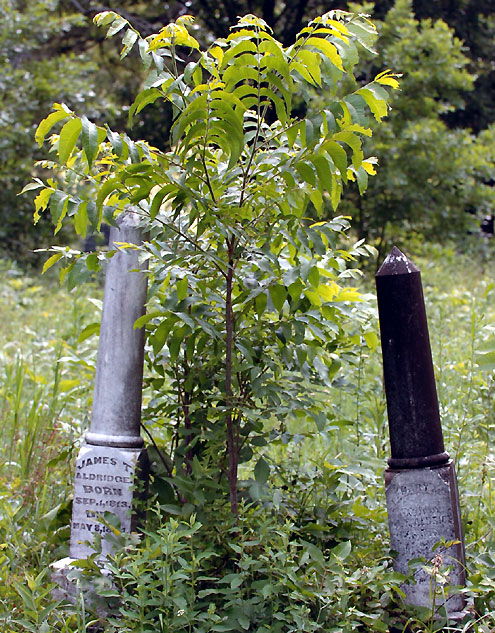 Gravesites of James T. and Mary Chadwell Aldridge, great-great-grandparents of America's First Lady, Laura Bush.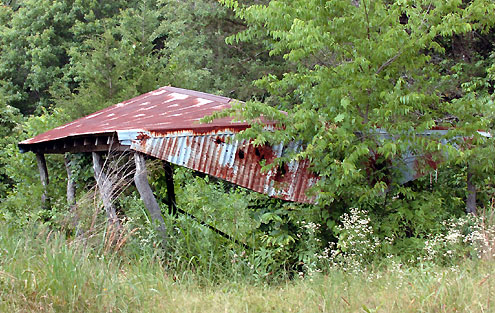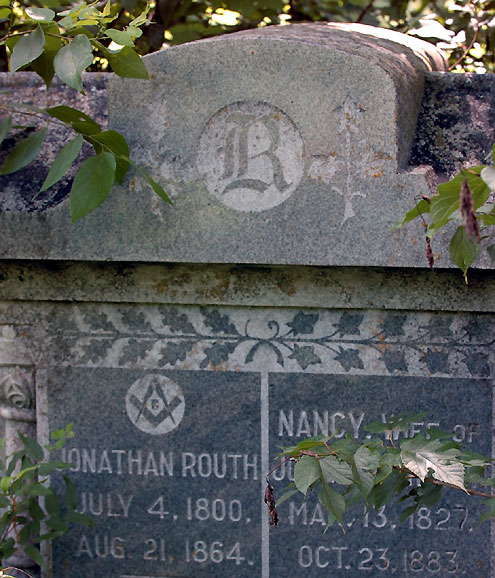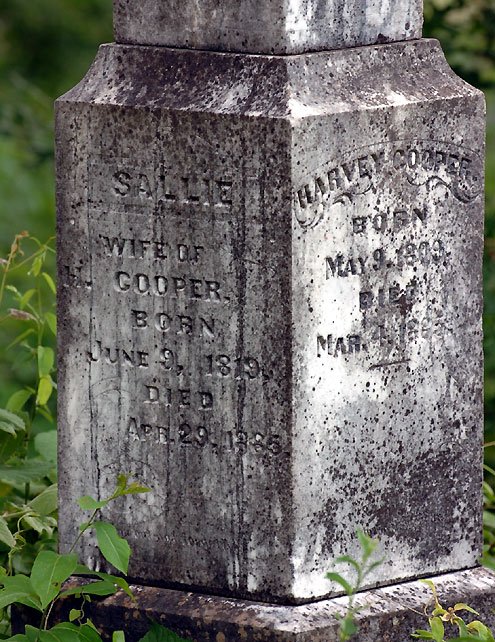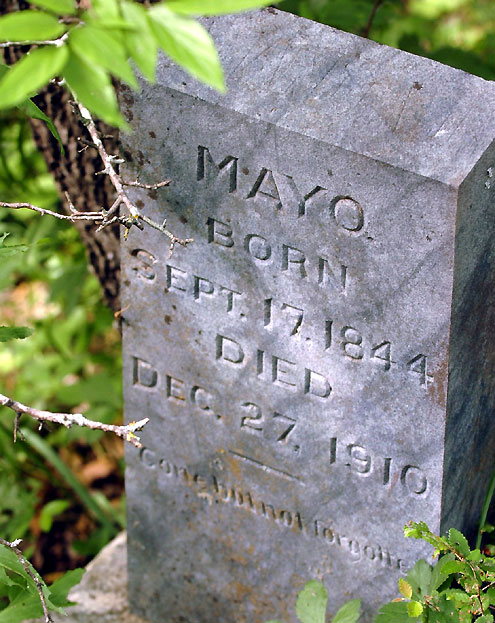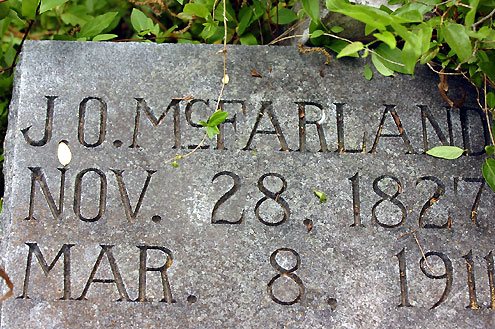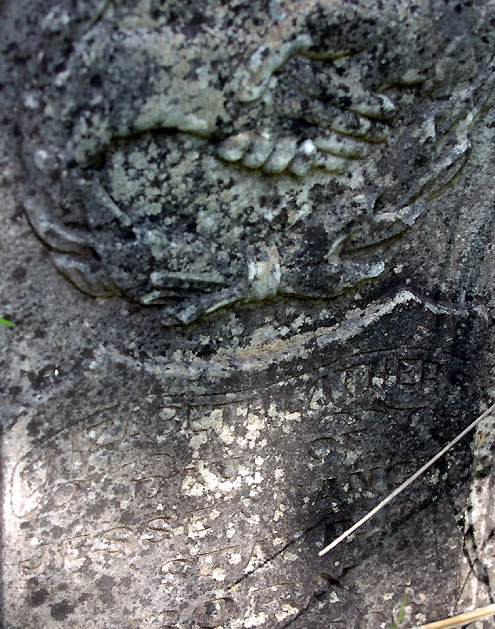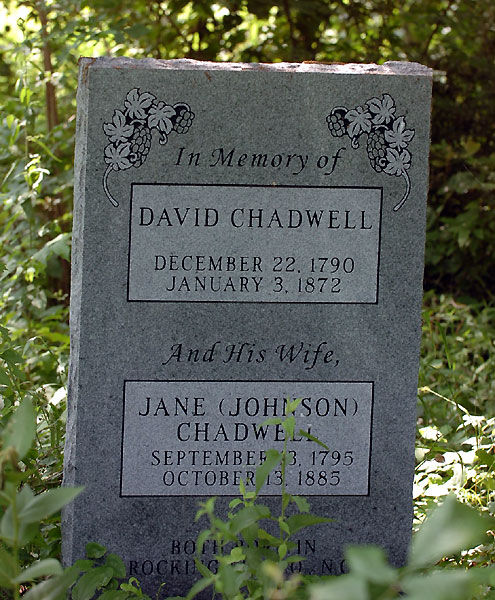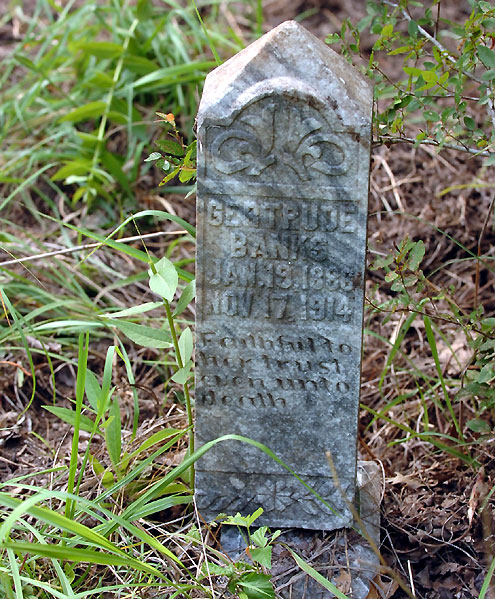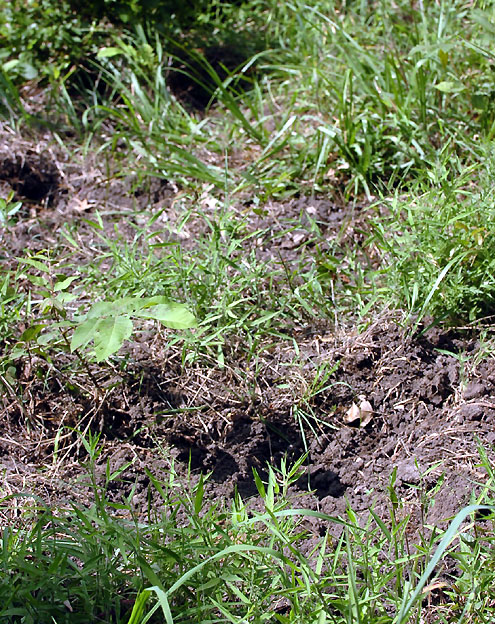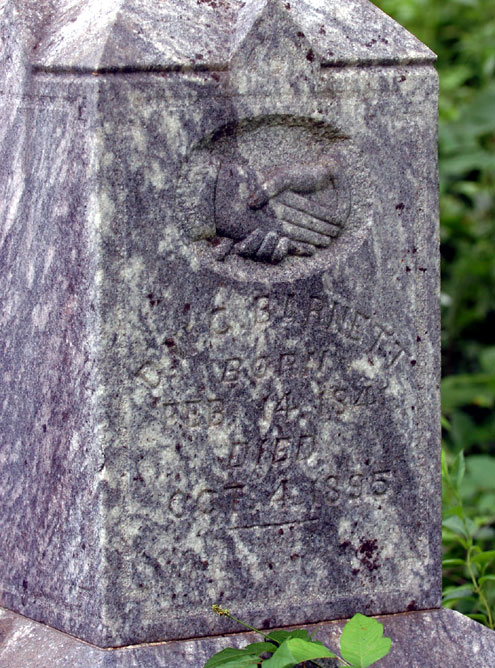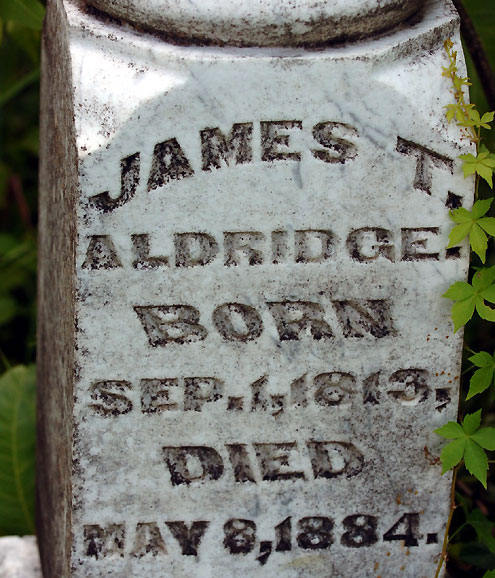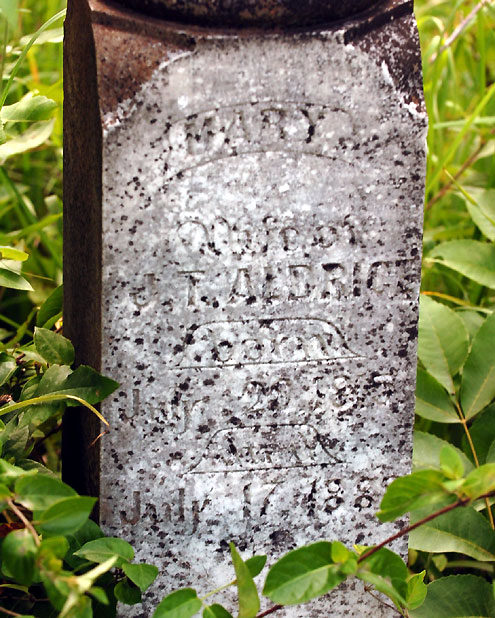 Rehobeth Cemetery photographs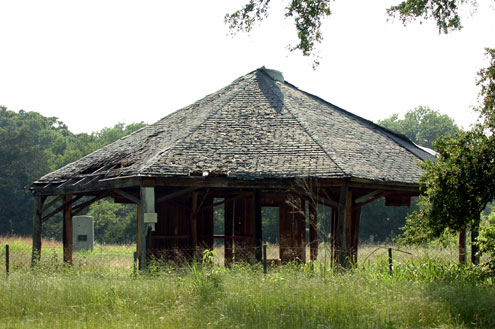 Rehobeth Chapel