Lifestyles
Kay Carrel Watercolor Workshop at Creative Arts Center May 16
May 16, 2019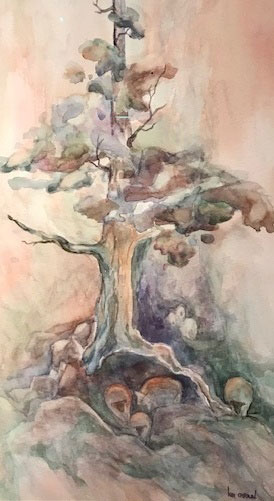 Follow the Path by Kay Carrel

Bonham, Texas -- Watercolor is a medium popular among both artists and art lovers alike. The often-transparent colors can depict on the one hand a vivid scene, full of bright colors, or a pastoral one with mere suggestions of landscape elements. Watercolor is not always an easy method to master, so the Creative Arts Center is offering a workshop with local artist Kay Carrel from 10:00 a.m. to 3:00 p.m. on Thursday, May 16. All experience levels are welcome and there is a supply list.

Kay is an accomplished watercolorist who has studied with many teachers, including Steve Quiller in Colorado and Deanna Thibault in Granbury. Quiller is an internationally renowned painter whose Quiller Palette system is taught all over the world. He even has a signature line of paints imported by Jack Richeson & Company.

Kay began using watercolors to paint horses in 1982 and has since incorporated many other themes into her work. Her paintings adorn the walls of many homes in Fannin County and beyond. This workshop is a great opportunity to work with such an experienced artist.

The cost of the workshop is $50. There is a supply list and lunch will be provided. Participants must sign up in advance by calling the Creative Arts Center at 903-640-2196 or stopping by the gallery at 200 W. 5th. Street in Bonham. The CAC accepts cash, check and credit cards.

While you're there, take a look at the beautiful exhibit Spring Showers Bring May Flowers, in the gallery beginning May 10 and visit the Gift Shop to see the many unique one-of-a-kind gifts available, all hand crafted by local artists. The Creative Arts Center is a project of the Fannin Community Foundation, Inc., a 501(c)3 non-profit charity.