Religion
Open Arms Homeless Shelter update
Jun 1, 2019
Fannin County, Texas -- A homeless shelter in Fannin County is about to become a reality! Open Arms Shelter hopes to be open sometimes this summer or early fall. The building at 1205 Albert Broadfoot was purchased in September of 2018. We had a matching grant from IWSL to purchase the building. Thanks to generous donations from many people, we met the matching grant well ahead of our one-year deadline.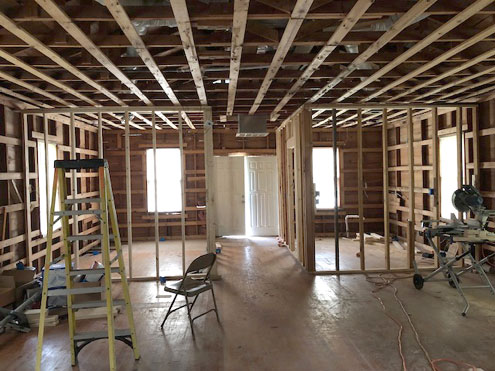 Framed offices
The floor plan shows how the building will be used to house and feed homeless men, women and children of Fannin County. We are inviting individuals, families, civic organizations, companies, and churches to partner with us by sponsoring a room with a specific monetary donation. ADA Bathroom - $2,500; Standard Bathroom -$2,000; Dining Area - $2,000; Standard Shower Room - $1,500; Laundry Room - $1,500; Family Rooms (3) @ $1,500 each; Storage Room - $500; Double Bunk Beds (10) @ $300 each. Donations have already been received for the Office and Kitchen. Plaques will be put up in the shelter to recognize those who sponsor that room/area. Sponsors are welcome to visit and take pictures at the shelter.
The building has been gutted and framed out. We are halfway through the process of plumbing and electrical wiring.
Sheetrock will be put up in the near future. We are very appreciative of all the people who have turned out to help on work days and those who have just shown up when someone is working at the building! David Davis of Davis Electric has been a wonderful blessing with his donation of time and services. We have also been very blessed to have a donation of kitchen cabinets, fixtures, and appliances from Tim Slider.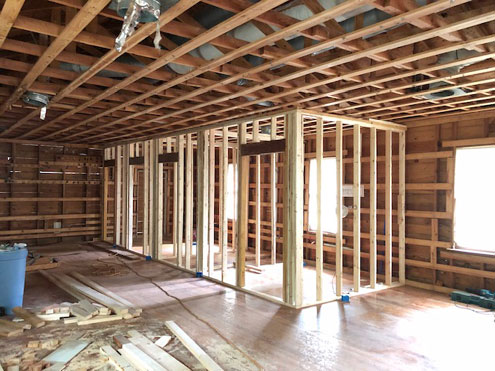 Framed bathrooms
For more information visit our website: www.oashelter.com.
You can donate, sign up as a volunteer, or sign up to receive a monthly newsletter on the website.
Please call Larry White at 903.505.0966 with your decision to help or for more information.