Local News
Contractors tour Fannin County Courthouse
May 11, 2019
I want to issue a correction regarding details of courthouse restoration.
In previous articles, I stated that Turner Construction, the Construction Manager-Agent on this project, is not allowed to work on construction and cannot be a party to any of the construction subcontracts.
In this particular case, there is no such stipulation between Fannin County and Turner Construction.
Turner Construction has solicited from the county on April 9, 2019, approval for Turner Self-Perform Organization (SPO) to bid on Turnkey Concrete, Site Logistics and Specialties.
The article also stated that work on Fannin County Courthouse would begin April 1, 2019, with a substantial completion date of October 3, 2020.
The latest schedule calls for a start date for phase 1 to begin May 20, 2019, with a substantial completion date of February 9, 2021.
-- Allen Rich
Fannin County, Texas -- Restoration efforts at the 1888 Fannin County Courthouse are picking up momentum, with dozens of contractors touring the building on Thursday, May 9, 2019, along with county officials, James Malanaphy of Texas Historical Commission and architects David Chase and Anne Stimmel of Architexas.
Contractors taking part in the tour represented an array of special skills needed for the largest project in the county's history.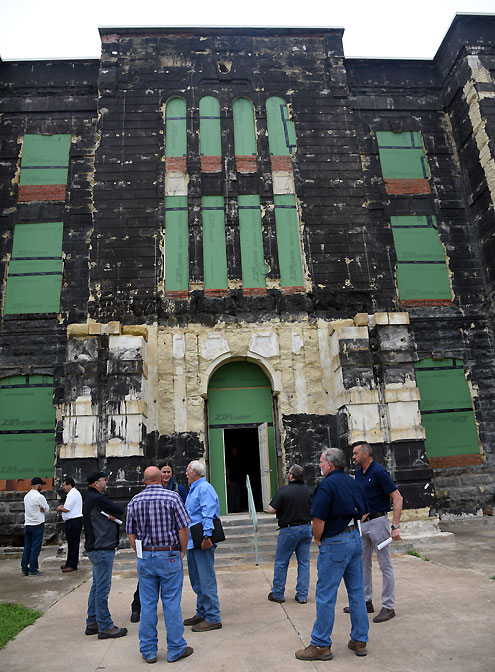 On Tuesday, May 14, 2019, contractors will spray on an application that will be peeled off Wednesday, removing the black waterproof mastic that covers much of the exterior of the courthouse.
Testing will also begin on a small amount of lead paint under the mastic and a small amount of old paint inside the courthouse.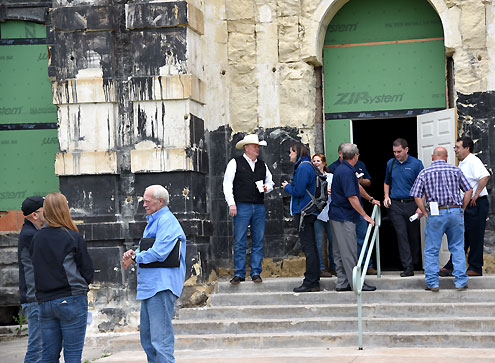 Turner Construction is the Construction Manager-Agent firm hired to advise the county in a fiduciary relationship, which means that the Construction Manager-Agent owes the county the highest standard of care and loyalty under the law.
The contract between Fannin County and Turner Construction is on the county website.
The contract states that the county's budget for the cost of work is $15 million.
County officials have stated that the number one priority is to bring this project in on budget; they believe residents will understand if the completion date has to be slightly extended as long as the finished product meets expectations.
The contract also stipulates that Construction Manager-Agent submittals will be reviewed by Mr. Chase and Ms. Stimmel of Architexas, Mr. Malanaphy of Texas Historical Commission, along with the county's representative.
Texas Historical Commission has a $5 million dollar investment in this project and significant oversight of the restoration of this 128-year-old limestone structure.