School News
Fannin County Texas A&M Club awards local scholarships
Apr 26, 2019
The Fannin County Texas A&M Club recently awarded five $500 scholarships to area students who will be attending Texas A&M University at College Station beginning in the fall semester 2019. The recipients are Madelyn Butler (Leonard High School), Juliann Kelley (Whitewright High School), Aaron Nelson (Honey Grove High School), Katherine Thern (Leonard High School), and Alexis Tillett (Whitewright High School).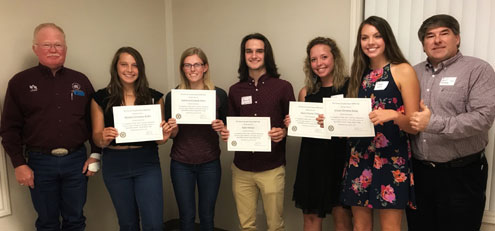 (L-R) Harold "Thump" Witcher '73 (Club President), Madelyn Butler, Katherine Thern, Aaron Nelson, Alexis Tillett, Juliann Kelley, and Scott Blackerby '93 (Scholarship Chair).
The scholarship is available to students who submit an application/essay regarding their high school achievements, reside in Fannin County, and have been accepted to attend Texas A&M University, College Station.
Madelyn Butler plans to study environmental design on her way to a career in architecture. While attending Leonard High School, Madelyn was involved in sports, band, cheer, and has served as senior class president.
Juliann Kelley aspires to be a pediatric physical therapist and will major in kinesiology. This path was shaped through her sports activity as a state tennis competitor and Whitewright High School volleyball captain.
While attending Honey Grove High School, Aaron Nelson was active in sports, academic UIL, FCA, One Act Play, and held the Beta Club vice-president position for the state of Texas. Aaron plans to study economics while at Texas A&M.
Katherine Thern currently serves in the Texas Army National Gard and has signed up to enter the Texas A&M Corps of Cadets while studying finance at the Texas A&M Mays Business School. Katherine has over 400 hours of volunteer community service and was a member of the 2017 Leonard High School State Champion 1600m relay track team.
With the dream of becoming a veterinarian, Alexis Tillett will pursue a degree in animal science. During her time at Whitewright High School, Alexis has been involved in FFA/4H, student government, cheer captain, golf, and volunteers with organizations including Special Olympics and Showing with Heart.
The Fannin County Texas A&M Club would like to congratulate these deserving students and wish them well as members of Texas A&M University class of 2023.