Farm and Ranch
Stewardship Week proclamation
Apr 24, 2019
Fannin County, Texas -- County Judge Randy Moore met with the Directors of the Fannin Soil and Water Conservation District to sign a proclamation for Conservation Week, which is April 28 through May 5, 20019.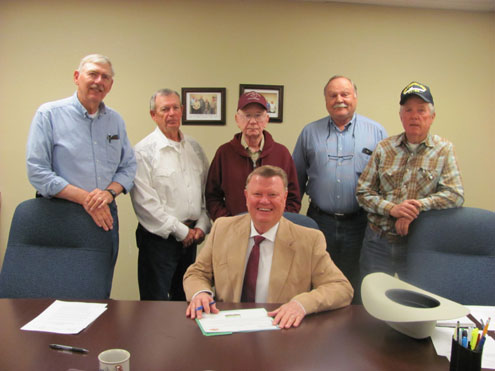 (L-R) A. W. Winningham, member, Ronny Hart, Vice Chairman, Billy Partridge, President, Derrell Hall, Sec/Treasurer, Phil Haley, member with Judge Randy Moore as he signs the Stewardship Proclamation.
The Fannin SWCD is a member of the National Association of Conservation Districts, which oversees the Stewardship Week program. The Fannin SWCD was organized on June 29, 1940.The national and local districts were established to encourage resource conservation across the nation. The Fannin SWCD will assist and encourage each land occupant to utilize each acre of land so as to protect and conserve it along with the resources of water and air for the present and future generations.
There are 217 SWCD's across Texas, they are all actively involved in soil and water conservation activities such as operation and maintenance of flood control structures, sponsoring workshops, seminars, producer field days and sponsoring essay and poster contests for all the youth of their respective districts or counties and honoring outstanding conservation producers.