Columnists
School board trustee counters libelous attacks with documented evidence
Apr 17, 2019
Bonham, Texas -- Residents of Bonham have grown accustomed to the local shopper using tax dollars from its "paper of record" status to sway local elections by publishing libelous, untitled editorials on the front page in an attempt to discredit individuals, but this latest attempt to blatantly attack four current Bonham School Board Trustees is creating a backlash in a community that is rallying around the people who were elected to guide the school district.
"Jason Fox was an employee of our business more years than I can calculate," says well-known Bonham business owner, Ruth Blevins. "He has been like a son to me and my late husband. We never had a problem with his integrity. Behind you all the way Jason!"
"Still the best teacher I've ever had," Bonham High School graduate Nate Williamson said of Mr. Fox. "I'd only wish that my children have a teacher like you."
Even as support for the current school board trustees rolls in, the local shopper has published yet another one-sided front page editorial that attempts to question the motives of Jason Fox, Chance Roberts, Randy Pendergrass and Dr. LaTonia Arris.
Mr. Fox has turned to social media to offer documented proof that he exceeded benchmarks during his teaching tenure at Bonham High School.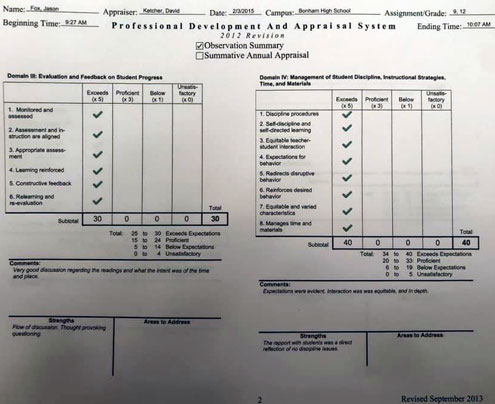 These inflammatory tactics are nothing new. This is the same shopper that once printed a photograph of the check of a candidate it opposed - a photograph that even included the candidate's spouse's name and made no attempt to block out the candidate's personal bank account number.
Although school board members have been reluctant to comment on this latest attack while litigation is pending, Mr. Fox did release this statement on social media.
The Truth Before the Lies!
Facebook friends, it was brought to my attention earlier this evening that the local printed newspaper will publish a very interesting article tomorrow that is a direct attack against my character and integrity. Before I tell you what was said, allow me to offer a definition from Merriam-Webster's online dictionary for the word LIBEL!
Libel: a written or oral defamatory statement or representation that conveys an unjustly unfavorable impression
(1): a statement or representation published without just cause and tending to expose another to public contempt
(2): defamation of a person by written or representational means
I will allow you all to make your own determination as to whether this is libel or not. In the local printed newspaper, the co-owner/editor implies that I only ran for school board in 2016 for the sole purpose of getting revenge on the administration for the loss or forced resignation of my employment from Bonham ISD in 2015. According to this article, it is implied that in the 2014-2015 school year, I received a poor evaluation. Now, that evaluation (from 2014-2015) was my first evaluation in three years. The reason for it being my first evaluation in three years is due to Bonham ISD policy that allows for a teacher that scores high enough on their evaluation and are no longer on a probationary contract, to be exempt from receiving a formal (45 minute) evaluation for up to three school years. That in fact was the case with me for the 2014-2015 school year (my last as a Bonham ISD employee). The article also implies that instead of facing my poor evaluation and improving my performance, I decided to seek employment elsewhere (Bells ISD). As a result, by default, I was more or less forced to resign if I did not improve my teaching performance.
This my friends is a complete fabrication and misrepresentation of the facts. Sounds like libel to me!
The local printed newspaper co-owner that is the author of the article is doing nothing more than speaking half-truths (which he is notorious for doing) as a way to sabotage my reelection campaign. The reasons for this are very clear; however, as a current elected official, I cannot speak about personnel issues...except my own! It is a witch hunt of which any evil being would be incredibly proud!
Now, some of you may ask me to prove it...I am about to do just that!
First off, in the twelve years I have been teaching, I have NEVER received a bad evaluation, from either district for which I worked. Second, my personnel files at either district has not a single write-up nor notation of disciplinary action due to poor performance or any other issue. Third, I was not entirely unhappy teaching in Bonham. I resigned from Bonham on April 23, 2015 (see attached copy of my resignation letter signed by the superintendent) which was the same day that the Bonham High School principal offered me a contract for the 2015-2016 school year. When I heard of the impending article, I made contact with Kelly Trompler, who was the Asst. Superintendent of Administrative Services at the time of my resignation to confirm. Mrs. Trompler was the primary administrator that handled human resources for the district in 2015 and she had the responsibility of meeting with campus principals and employees to discuss personnel matters including termination and explain employees' options such as resignation. Mrs. Trompler confirmed that she did not have such a meeting with my principal and me. When I interviewed for my current position at Bells High School, it was the only job for which I applied that year. The only reason I did apply was because I was contacted personally by a Bells employee asking if I would be interested in applying for their open position. At the time, I believed it would be a help in my career to work at another district so that I could have additional experience since I was looking to go into administration myself someday. I was offered the job and I accepted! End of story. Finally, my final evaluation in Bonham was one of the best evaluations that I have ever received (I have attached the evaluation as proof). If I had decided to stay, I would not have received another formal evaluation for an additional three years since I did so well on it. I received nothing below proficient. In fact, as you will see, I received the highest possible marks (Exceeds) on most of the evaluation.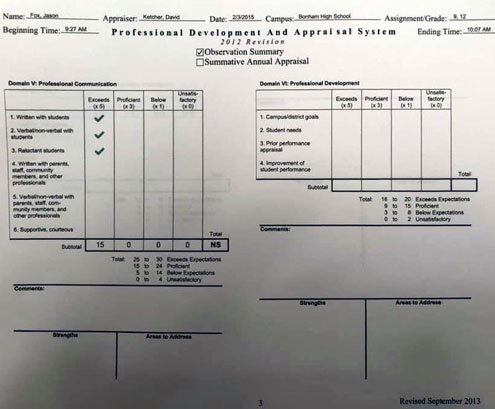 So, you decide...what in the world would I be mad about? It is unbelievable that I would go to the trouble of running for school board, knowing that I may have to deal with situations like this one just as a way to satisfy this fabricated desire to exact revenge on an administration that never did anything wrong to me. In 2016, I ran for Bonham ISD school board for the exact same reason that I want to be a school principal: I believe that I have something to offer to improve the public education of our children! PERIOD! I have a son that will be a senior at Bonham High School next year and a daughter that will be a freshman at Bonham High School next year. Its not about revenge, its about doing what is right for our children! What has the local printed newspaper done recently for our children except for making accusations and implying wrongdoing when there has been none.
I have kept my mouth shut up to this point because I honestly feel that the co-owner of the local printed newspaper is a has-been that is grasping desperately at remaining relevant in a world that is quickly passing him by, I can honestly say that I receive 99% of my news from online sources and I typically take the archaic printed newspaper tossed in my yard every Monday and toss it again in my trashcan. I hope this whole debacle will encourage most everyone else to throw this local relic from the 20th century in the scrapheap of other useless items from days gone by!
Share this and get the word out!
Jason Fox
"The Lord is my light and salvation-- whom shall I fear? The Lord is the stronghold of my life-- of whom shall I be afraid?" Psalm 27:1 NIV