Local News
Billy Hughes named City of Bonham Employee of the month, city endorses splash pad for Powder Creek Park
Apr 10, 2019
Bonham, Texas -- The City of Bonham's Employee of the Month for March is Billy Hughes and that announcement came during a regular meeting of Bonham City Council held Monday, April 8, 2019.
Mr. Hughes is a Battalion Chief with the Bonham Fire Department and has been with the department for 25 years. Chief Hughes is described as a leader who "goes above and beyond in support of his personnel." Some of the reasons Hughes was nominated include, he "advocates for a better work environment and culture on a regular basis," he exemplifies commitment to his crew and backs them without hesitation," and Chief Hughes is "constantly working to improve the department and Bonham."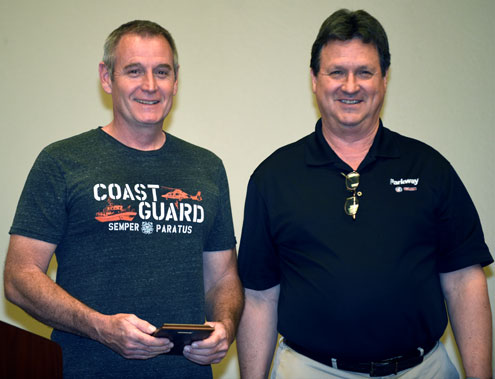 >(L-R) Bonham Fire Department Battalion Chief Billy Hughes and Bonham City Councilmember Kevin Hayes
Each Employee of the Month receives four hours of paid time off and a $50 gift certificate. At the end of the year, the Employee of the Year will receive eight hours of paid time off and a $250 gift certificate. The awards are part of an initiative to provide more incentives and improve morale among city employees.
*****
The regular meeting of Bonham City Council opened with the city council approving minutes from the March 11 regular meeting.
*****
Dave Struchtemeyer, CPA, Director of Finance for the City of Bonham, presented the March 2019 financial report to Bonham City Council.
"Ad valorem tax collections through March are almost 95% collected with nearly 2 and a half million dollars collected for the year," Mr. Struchtemeyer reported. "Sales tax collections through the month of March are over 7.5% greater than sales tax collected through March of last year.
"Revenue and expenses on the General Fund are tracking very close to their budgeted amounts. Police overtime has been tracking back to normal after the spike we incurred during the first quarter of the year. Water/Sewer is tracking very close to the budget on both revenue and expenses.
"At the halfway point of the Fiscal Year we donít anticipate any budget shortfalls," Struchtemeyer added, "but will carefully monitor expenses between now and the end of the Fiscal Year."
*****
Bonham Mayor Roy Floyd presented a proclamation to members of Creative Arts Center that declares May 11, 2019 as Red River Art, Wine and Music Fest Day.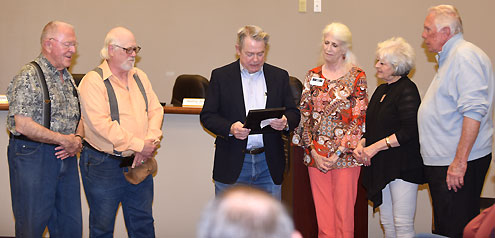 (L-R) Bob Carrel, Chris Cravens, Bonham Mayor Roy Floyd, Lisa Avila, Kathy Self and Bob Self
This popular spring ritual will feature a day of children's activities, artists and craft vendors, wine tasting, music, and silent auction at Creative Arts Center, plus an art walk around the Bonham Square.
*****
After years of discussion, the City of Bonham seems poised to move forward with a splash pad project in Powder Creek Park, thanks to the possibility of a significant contribution from Bonham Economic Development Corporation (BEDCo). The BEDCo board is expected to vote next Monday, April 15, 2019, on a $50,000 contribution and Bonham City Councilmember Tony Rodriguez has managed to solicit approximately $3,000 in donations from the community.
The City of Bonham is considering a 920sf splash pad, 40'x23'.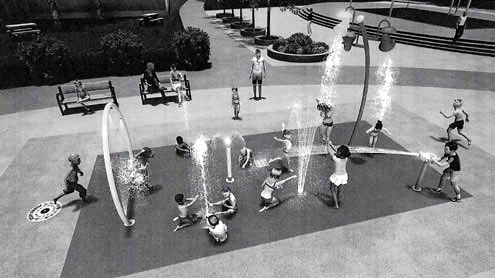 Total cost of the project is estimated to be slightly less than $84,000, leaving a difference of just over $30,000, but Bonham City Manager Sean Pate believes that amount can be cut in half by the city doing part of the installation as well as procuring supplies at lower rates than a contractor would pay.
"I think we have a good opportunity to do this and give something back to the citizens of Bonham," Councilmember Rodriguez remarked.
"Let's do it," added Councilmember Wayne Moore.
Bonham City Council endorsed the project and the next step with be to await the BEDCo decision April 15.
*****
Bonham City Council approved a contract for Election Services between the Fannin County Clerk and the City of Bonham for the May 4, 2019 election.
*****
Bonham City Council ratified a decision by BEDCo to approve a $90,000 loan to Trans Cable International (TCI) Ė for an internal expansion at their Bonham facility in the former General Cable Plant, and to designate the TCI expansion as a "project".
"We've seen significant growth in Bonham and we want to grow wit Bonham," stated Jeff Almendinger, Chief Operating Officer of TCI. "Thank you for your continued commitment. From the first day, Bonham Mayor Roy Floyd, the city staff, and BEDCo Executive Director Steve Filipowicz in particular, have worked tirelessly."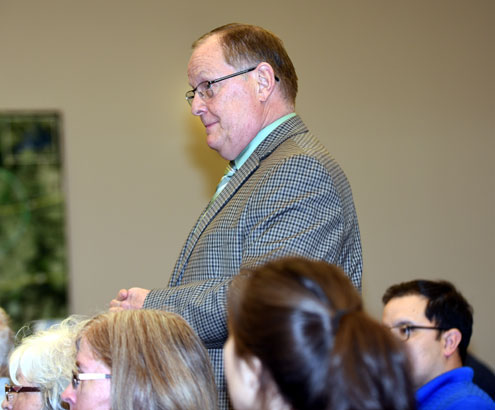 Jeff Almendinger
*****
Bonham City Council received the 2018 Racial Profiling Report from the Bonham Police Chief Mike Bankston as required by Article 2.131 of the Texas Code of Criminal Procedure.