Local News
ICE executes federal criminal search warrant in North Texas
Apr 5, 2019
Allen Texas -- On April 3, 2019, U.S. Immigration and Customs Enforcement's (ICE) Homeland Security Investigations (HSI) Dallas conducted a large-scale worksite enforcement operation resulting in the administrative arrest of 284 illegal workers who worked for the CVE Technology Group (CVE) facility in Allen, Texas. The focus of this operation and the admin arrests was to support an ongoing criminal worksite investigation.
Nationwide, the April 3 worksite enforcement operation in Allen, Texas, resulted in the largest number of admin arrests in a single site since 2008.
These arrested workers were citizens from the following 15 countries: Bolivia, Brazil, Columbia, El Salvador, Guatemala, Honduras, Kenya, Liberia, Mexico, Nicaragua, Nigeria, Peru, South Africa, South Korea and Venezuela.
Additionally, HSI Dallas encountered 125 additional CVE employees who were determined to be U.S. citizens, U.S. permanent residents, or they otherwise had legal status to work in the United States.
All those arrested were transported to ICE/ERO facilities to be processed for immigration removal.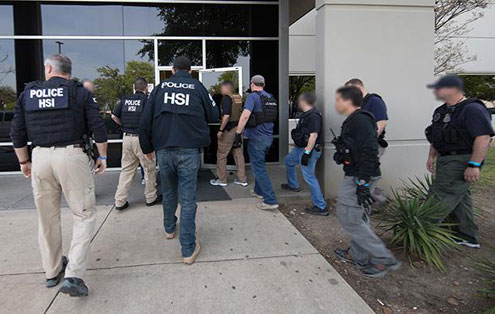 Of the 284 illegal workers arrested, 110 were ordered detained; 174 were issued a notice to appear (NTA) before a federal immigration judge and released on their own recognizance for humanitarian reasons pending an immigration court hearing. Of those who were ordered detained, nine had illegally re-entered the United States after having been previously deported; eight had already received final orders of removal.
This is an ongoing criminal investigation. Any questions about criminal arrests, criminal charges, or the criminal investigation should be directed to the U.S. Attorney's Office, Eastern District of Texas.
Disposition Summary:
284 Total taken into custody at job site (51 males and 233 females)
110 detained in custody as of April 4, 2019
174 processed and released for humanitarian reasons
Breakdown by number of arrests by nationality:
1 Bolivia
1 Brazil
6 Columbian
38 El Salvador
18 Guatemala
27 Honduras
1 Kenya
1 Liberia
112 Mexico
2 Nicaragua
48 Nigeria
2 Peru
1 S Korea
1 South Africa
25 Venezuela
BACKGROUND INFORMATION:
U.S. Immigration and Customs Enforcement (ICE) continues to focus its enforcement resources on individuals who pose a threat to national security, public safety and border security. ICE conducts targeted immigration enforcement in compliance with federal law and agency policy. However, ICE does not exempt classes or categories of removable aliens from potential enforcement. All of those in violation of the immigration laws may be subject to immigration arrest, detention and, if found removable by final order, removal from the United States.
Aliens processed for removal may receive their legal due process from federal immigration judges in the immigration courts, which are administered by the Executive Office for Immigration Review (EOIR). EOIR is an agency within the U.S. Department of Justice, and is separate from the U.S. Department of Homeland Security and ICE. Immigration judges in these courts make decisions based on the merits of each individual case. ICE officers carry out the removal decisions made by the federal immigration judges. For more information on EOIR, visit: https://www.justice.gov/eoir/
Depending on an alien's criminality, an alien who re-enters the United States after having been previously deported commits a felony punishable by up to 20 years in federal prison, if convicted.