Obituaries
Betty Ruth Duncan Sadowski
Apr 4, 2019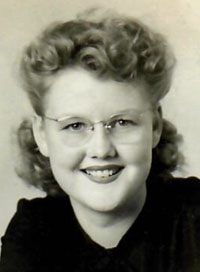 Leonard, Texas -- Funeral services for Betty Ruth Duncan Sadowski, 88, of Kemp, Texas, are scheduled for 2:00 p.m. Saturday, April 6, 2019 at the Turrentine-Jackson-Morrow Funeral Chapel in Leonard. Her son, Mike Bartlett, will officiate. Family visitation will be Saturday, April 6, 2019 from noon until service time.

Betty was born March 18, 1931 in Leonard. Her parents were Charlie F. and Lila W. Brinkley Duncan. She was a homemaker and a Southern Baptist. She married Raymond Sadowski June 18, 1982 at Fort Sill, OK. She was a devoted daughter to her mother, Lila Duncan, and a faithful servant with the Veterans of Foreign Wars Auxiliary to the veterans who defended our country. She passed away Wednesday, April 3, 2019 at UT Health of Athens.

Betty is survived by her son and daughter-in-law: Mike and Debbi Bartlett of Mabank, TX; her daughter and son-in-law: Nancy and Charles Englebretson of McKinney, TX; her son and daughter-in-law: Mark and Sherrie Bartlett of Houston, TX; her sister: Barbara Cobb of Camden, S.C.; her aunt: Helen Green of Leonard, TX; her 8 grandchildren and her 11 great-grandchildren.

She was preceded in death by her parents, Charlie and Lila Duncan, and her husband, Raymond Sadowski.

Memorial gifts may be made to the VFW Post 5263, 103 NE 20th Street, Lawton, OK 73507.

Turrentine-Jackson-Morrow Funeral Home of Leonard is in charge of arrangements. An online registry may be signed at www.tjmfuneral.com.