Sports
The Sandman
Apr 16, 2019
I bet about now, you're wondering how the title to this week's outdoors column relates to the outdoors, right? Stay with me, I'm about to introduce you to a friend that has a passion for hunting, fishing and the outdoors in general who lives to share his outdoor paradise with others, especially children and veterans that might otherwise not have a place to hunt hogs or simply experience the outdoors.
Meet Mr. John Hall, aka "The Texas Sandman." John was born not far from the banks of the Trinity River and spent his live living within a mile of the old homeplace in southeast Dallas County. After his father lost the use of his legs, John was working for sharecropper farmers chopping cotton at the age of six to help provide for his family.
As he puts it, "I've worked hard all my life and was fortunate to invest in land that was loaded with sand and gravel during a time when these building materials were in very high demand."
Through the years, John invested in more and more land that had what he refers to as "granular gold."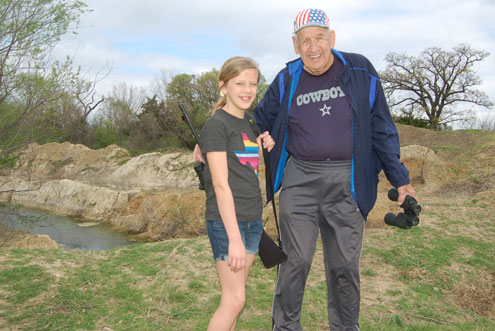 Mr. John Hall doing a little scouting for wild hogs with his one of his young guests, Anna Zimmerman. photo by Luke Clayton
I spent an entire day visiting with John last week and learned a good deal about his current operation. He continues to be a very large-scale provider of construction sand. The day of my visit, trucks were continuously running to and from his mining operation. But what really intrigued me was how he has transformed a sand and gravel mining operation into an area for hunting and observing wildlife for those that might not otherwise experience the outdoors.
Several years ago, John had a high fence constructed around the property and stocked it with Red Deer and other exotics. A very healthy population of wild hogs was present in the area and thanks to an aggressive feeding operation, their numbers have increased greatly. This is just as he planned; now hunting opportunities abound for many that might not otherwise have a place to hunt and Mr. Hall doesn't charge a penny.
John's only rule is that his guests shoot only what they wish to eat and all hunting takes place during daylight hours so that boars can be identified, sows are left to insure the property remains well stocked with wild porkers.
I too share this philosophy when it comes to hunting. I've always been challenged to look at wild hogs as vermin that need to be totally eradicated. Controlled, yes but not eliminated. I'm all about putting all that wild pork to use on the dinner table.
After my first day with Mr. Hall, he invited me to come back and bring my daughter, Ashley Zimmerman who has a passion for wildlife photography and her daughter, my granddaughter, Anna. My daughter has never been nor will ever be a hunter but she enjoys eating game. She grew up eating venison, wild pork and game birds. She has nothing against hunting and supports the hunting lifestyle. She kids me that she is a hunter, she just used a camera rather than a rifle.
Now, the granddaughter is geared up a bit differently I believe. All she needs is a bit more training and exposure to become a hunter. On her first 'hog hunt' which was really more of a sightseeing tour of the ranch, I could see Anna's excitement grow every time we sighted hogs. Mr. Hall knows his ranch so well and has the animals movements patterned so that he would often drive to a trail crossing and put my daughter in position so that she could get out with her camera and 'long' lens to get her pictures.
Rather than a spot and stalk type hunt which often requires getting on game quickly and making the shot, I am a firm believer that new hunters do better when hunting from a blind in a much more controlled situation. This gives them the opportunity to take their time and concentrate on making a good shot.
Mr. Hall's herd of red deer has free range of the place and most of the stags have dropped their antlers. It appears most of the females or 'hinds' as they are called will be dropping their fawns in a couple of months. The red deer is a member of the elk family and their breeding season and gestation are much the same.
Into his eighties now, Hall has reached a stage of life where he enjoys sharing what he has with others, the sand and gravel business is in his blood and so is buying and selling land but sharing his land with others is where his real passion lies. It was obvious he thoroughly enjoyed giving us a tour of the ranch.
As we drove along the ranch roads, he would occasionally stop and point out spots such as the site where once stood a cabin where he saw his first electric light bulb or the headwaters of a spring that furnishes his ranch and endless supply of fresh water.
A large flock of greater Canada geese was busy making nests and Mexican whistling ducks were roosting on many of the ponds on the place. It was obvious with all the water present that the ranch is a waterfowler's paradise during hunting season.
Before beginning this week's column, I asked Mr. Hall if he wished me to mention to my readers that his hunts for kids are free and he answered with a resounding YES!
Of course a parent must be present and ready to do the field dressing of harvested hogs on weekends but during weekdays, he has someone present to take care of the field dressing chore if needed. For more information, give John Hall a call at 972-989-7272.
Listen to "Outdoors with Luke Clayton and Friends" weekends on radio stations from Nebraska to Texas or anytime online at www.catfishradio.org.