Local News
Relay For Life canned food drive April 27
Apr 27, 2019
BONHAM - The Relay For Life of Fannin County, Texas, is holding a canned food drive during their event set for Saturday, April 27, in support of the luminaria ceremony. Registered Relay For Life participants and the community are encouraged to bring canned food donations.

Luminarias are white, paper bags that are personalized with a name, photo, message or drawing in honor of loved ones affected by cancer. Lit after dark at every Relay For Life event, the luminarias are typically filled with sand and have a candle and/or a glow stick, representing the cancer fighter, inserted.
This year, Fannin County's Relay for Life will replace the sand with the cans received from the drive, and set a glow stick atop the cans to combine the efforts of community outreach and
reverence.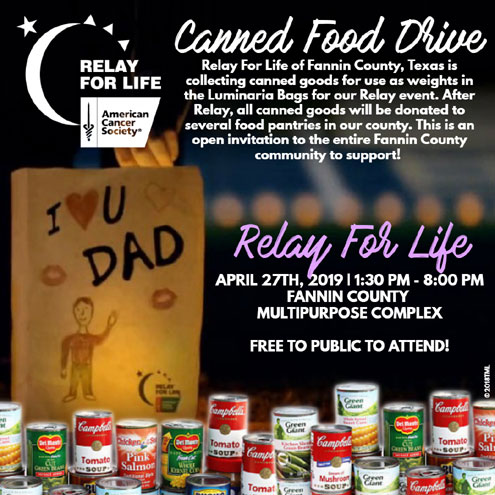 The majority of funds raised through Relay For Life and other events part of the American Cancer Society (ACS) are directly used for cancer research, patient support, prevention and education, and detection and treatment. Over the past century the ACS has been a part of every major cancer research breakthrough, having funded the research that found treatments such as chemotherapy and bone marrow transplants, preventative tests such as the pap smear and mammogram; and the PSA test for prostate cancer.

If you would like to donate towards Relay For Life, please visit us online at www.relayforlife.org/fannincotx.

For more information about canned good donations, please call Tim La Vergne II at 903-227-8417 or tlavergneii@cableone.net.