Local News
Brett Graham honored with Okay to Say Leadership Award
Mar 14, 2019
Denison, Texas – (March 12, 2019) Brett Graham, former Texoma Health Foundation board chairman, was honored with the Okay to SayTM Leadership Award during the third annual Community Behavioral Health Conference in Denison last week. The award is bestowed upon individuals who show an exemplary commitment to raising awareness about mental health and encouraging everyone to talk openly about it. Okay to Say is an award-winning mental health public awareness campaign initiated by the Meadows Mental Health Policy Institute.
"Brett Graham's leadership has helped spread the message of Okay to Say, encouraging everyone to talk openly about mental health and reinforcing the message that mental illness is treatable," said Coby Chase, Vice President of External Affairs for the Meadows Mental Health Policy Institute, "His efforts have touched lives throughout the region and have brought a message of awareness and hope that will have lasting effects on the people of the region for years to come."
Graham was instrumental in establishing the first Community Behavioral Health Conference in 2017. He was also part of the team that created the framework for the Texoma Behavioral Health Leadership Team, a monumental step in the direction of change for the Texoma community. That team also included Texoma Health Foundation President Michelle Lemming and nationally-prominent behavioral health systems expert Dr. Chris Cline.
"Brett Graham has been spreading the Okay to Say message across our region since the campaign's inception three year ago," said Michelle Lemming, President and CEO of the Texoma Health Foundation. "His tireless energy and devotion to the people of Texoma has played a major role in the shift of Texoma's culture to create a place of mental health and well-being, and I am so pleased to see him receive this well-deserved recognition."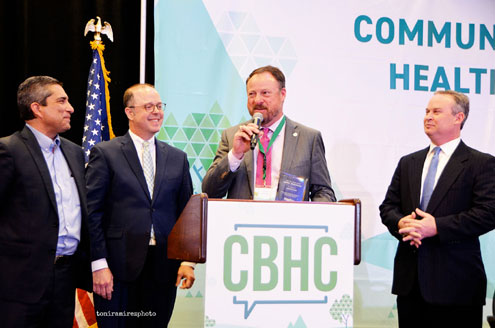 (L-R) Andres Alcantar, EVP and COO for the Texas Association of Business; Coby Chase, VP of External Affairs, Meadows Mental Health Policy Institute; Brett Graham; and Texas State Representative Reggie Smith (District 62)
"Most of us deal with a mental health challenge at one point or another, whether it is ourselves, a friend or family member," said Brett Graham. "The effects of this campaign, centered around the simple message that its ok to say I have a mental health problem or challenge, has been nothing short of amazing and I am proud to have been a part of it. To receive this award from the Meadows Mental Health Policy Institute is one of the greatest honors I have ever received."
In addition to his past role as the board chairman of the Texoma Health Foundation, Graham is CEO of Graham International and a board member of the Texas Department of Motor Vehicles.
Past recipients of the Okay to Say Leadership Award include United States Senator John Cornyn, Texas State Representative Garnet Coleman, and former Harris County Judge Ed Emmett.
About Okay to Say™
Okay to Say™ is a community-based campaign launched by the Meadows Mental Health Policy Institute and its partners to increase public awareness that most mental illnesses are treatable and to offer a message of hope and recovery to Texans and their families. Individuals are encouraged to add their name in support of this message and share their stories okaytosay.org.
About the Meadows Mental Health Policy Institute
Since its public launch in 2014, MMHPI has helped Texas legislators, state officials, members of the judiciary, and local leaders identify systemic mental health needs and solutions, quickly becoming Texas's most trusted source for data-driven mental health policy. In three short years, the Institute has begun to make significant impact in multiple areas, helping Texas leaders expand the mental health workforce, improve access to care for veterans and their families, shift the focus of new investments toward early intervention, and address the mental health crisis in our jails and emergency rooms. For more information, please visit texasstateofmind.org.
Texoma Health Foundation
THF is the community's heart of philanthropy. We work to connect all different types of donors and funds with our area's needs to establish a better community for today and tomorrow. THF serves as the Texoma Region's only public Foundation serving Grayson, Fannin, Bryan and Marshall Counties. Since its founding, the Foundation has grown in size and scope; adding new endowments and funds while strategically evaluating the priorities of healthcare philanthropy. In addition, the Texoma Health Foundation owns and operates Reba's Ranch House, a home away from home for families traveling to be close to their loved ones in area hospitals.texomahealth.org