Lifestyles
Telephone Volunteer Fire Dept. chili and soup supper March 16
Mar 16, 2019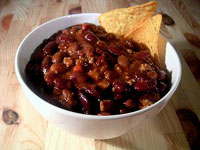 Telephone, Texas -- The Telephone Volunteer Fire Dept. will have a chili and soup supper on March 16 at Telephone Community Center. Serving starts at 6:00 p.m.

Chili, soup, cornbread, dessert and all fixings will be available for a donation.

Money will be used to make improvements to buildings and equipment.

Please come out and support the fire department!