Lifestyles
Creative arts Center hosts St. Patrick's Soups On!
Mar 15, 2019
Friday, March 15 at 6:00 p.m.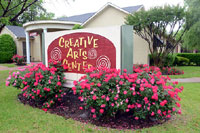 Bonham, Texas -- The Creative Arts Center Soups On! events are always a hit because of the great soup and great entertainment on the menu. By popular demand, potato soup will be the primary choice with a few additional soups and delicious cornbread plus dessert and drinks are all included in the price of $20 per person.

For entertainment, the center's regular thespians will perform a reading of "A Wee Bit of Irish Luck" by Lisa Avila. This short comedy has an Irish theme and is sure to provide patrons with a sufficient amount of blarney to celebrate St. Patrick's Day. Guests are also treated to the newest exhibit in the gallery - Cowboys & The West, a beautiful collection of media depicting the theme.

Reservations are required for this event and may be purchased over the phone at 903-640-2196 or in person.

For more information about the art center's many activities, visit their Facebook page or www.creativeartscenterbonham.com.