Local News
National Active and Retired Federal Employees Conference held at Derrell Hall Education Building
Mar 8, 2019
Fannin County, Texas -- The Derrell Hall Education Building was the site for the National Active and Retired Federal Employees Conference. Invocation was given by Rev. Paolo Capra, followed by the Pledge of Allegiance. Welcome speech was given by Dale McQueen, Executive Director of the Bonham Area Chamber of Commerce. A power point presentation was given by Cathy Latham and Carole Stanton, Site Manager, Sam Rayburn House Historic Site about Sam Rayburn at Home.
Marshall L. Richards, Region VI Vice President spoke of the status of NARFE. NARFE reached the goal of donating Thirteen million dollars for Alzheimer's research. There is a new congress, and Congressman Ratcliffe is supporting HR 1254 COLA for FERS employees.
Dale St. Laurent, Executive VP spoke on recruitment, Pre-retirement seminars, and budget for 2019 - 2021.
Charles Graffam, Northeast Area VP spoke about the Texas Federation Register, and the new Chapter Bylaws. He read a letter from the Texas Federation President Dr. John Creswell.
Charles Graffam presented a Certificate of Appreciation to Carol A. Carpenter, she retired from Red River Arsenal, and is the President of the New Boston Chapter.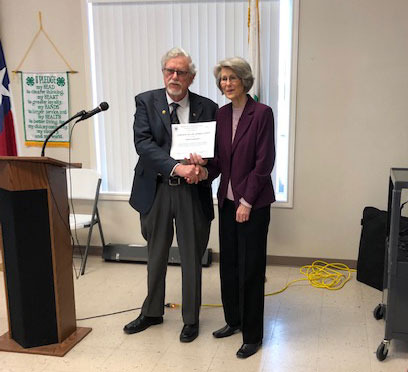 Carol Carpenter, New Boston
A Certificate of Recognition was given to Sarah Swindell, she is a retired Postmaster from Celeste, and the Secretary/Treasurer for the Bonham Chapter.
Sarah S. Swindell receiving Certificate of Recognition
Joyce L. Smith, is a retired Postmaster from Telephone and received a Service Award in recognition for leadership in the Bonham Chapter for the last 25 years.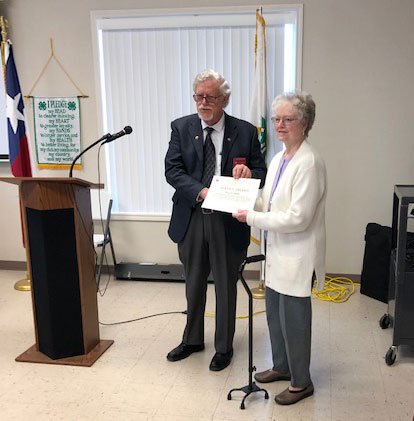 Joyce L. Smith receiving Service Award
Diane Geer, retired Federal employee, started her career as a stenographer at various military installation in Germany and Turkey. She is the secretary for the Lake Texoma - Sherman Chapter, receiving a Certificate of Recognition.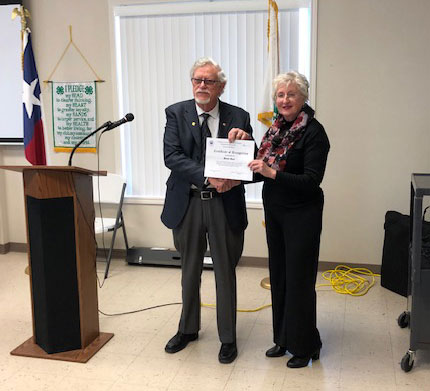 Diane Geer receiving Certificate of Recognition
The National Active & Retired Federal Employees Association advocates for federal employees: Past, Present and Future.
The Bonham Chapter meets on the 4th Tuesday of each month at 10:00 a.m. at the First United Bank, Bonham, Texas.