Sports
Babe Laufenberg and Steve Eagar to serve as honorary co-chairs for 15th Annual III Forks Golf Classic
May 4, 2019
Dallas, Texas – Babe Laufenberg, NFL quarterback and one of the most popular sports personalities in North Texas, will serve along with Fox 4 evening news anchor Steve Eagar, as Honorary Co-Chairs for the 15th Annual III Forks Golf Classic on May 5 – 6, 2019.
Presented by Northwestern Mutual – Dallas, this two-day event kicks off with dinner and a live and silent auction on Sunday evening, May 5, at III Forks Steakhouse in Dallas. On Monday, May 6, more than 300 golfers will gather at Gleneagles Country Club in Plano to compete on the Kings and Queens courses.
"We are thrilled to have one of the most popular sports personalities and top news anchors in Dallas join us in our fight to raise money to support childhood cancer research," said Kathryn Copple, Executive Director of Dallas-based TeamConnor Childhood Cancer Foundation.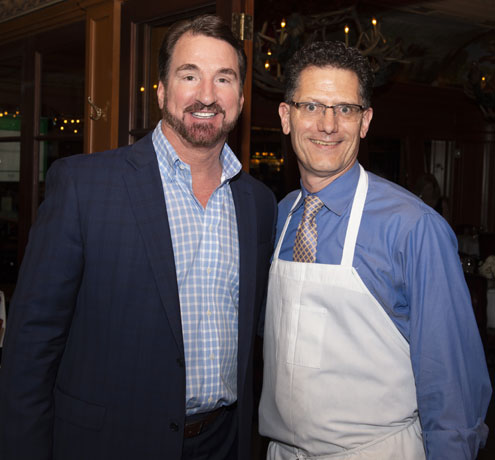 (L-R) Babe Laufenberg and Chris Vogeli at the III Forks Golf Classic.
Babe Laufenberg was drafted by the Washington Redskins in 1983 and played eight years as a quarterback in the NFL. In addition to his time with Washington, he played for the New Orleans Saints, San Diego Chargers, and finished his career playing two seasons with the Dallas Cowboys. He was also selected in the Major League Baseball draft out of high school by the San Francisco Giants. On December 26, 2017 Babe's then 19-year-old son, Luke Laufenberg, was diagnosed with a rare, fast growing form of Leukemia with only a 70-80% survival rate. In May 2018, Luke was pronounced cancer free.
Steve Eagar is a reporter and evening news anchor for Fox 4 News. Steve's early life was focused on sports, eventually earning a baseball scholarship to Brigham Young University. He was drafted three times by major league baseball teams: the Cincinnati Reds, the San Francisco Giants, and finally the Detroit Tigers with whom he signed a contract and played three seasons in the Tiger's minor league system. After baseball, Steve returned to BYU and completed his Communications degree with an emphasis on Broadcast News. He worked in Yuma, Arizona, Las Vegas, Nevada, and Salt Lake City, Utah before arriving at Fox 4 in the Dallas-Fort Worth market more than 21-years ago.
"Babe Laufenberg has a miraculous story to share regarding Luke's diagnosis and treatment," said Copple. "Steve Eagar has served as our honorary chair the last two years, and we are so happy to have him back, as our attendees love his sense of humor and infectious positive attitude. With Laufenberg's and Eager's support, we hope to increase awareness of the critical need for more funding, better treatment protocols, and eventually cures for childhood cancers."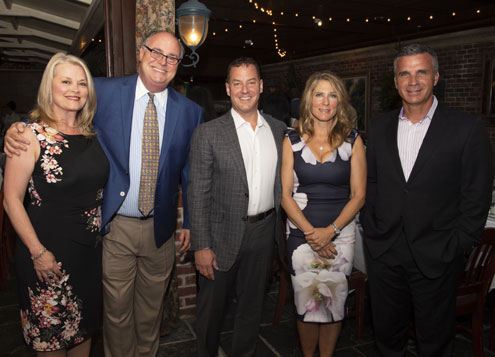 Lisa & Mark Davis, Tait & Joy Cruse, and Steve Eager at the III Forks Golf Classic.
Sponsors for the 2019 III Forks Golf Classic include: III Forks Steakhouse, Title Sponsor; Northwestern Mutual – Dallas, Presenting Sponsor; Park Place Lexus Plano, Automotive Sponsor; Leslie and Alex Beilin, Dinner Sponsor; PlainsCapital Bank, LeaderBoard Sponsor; Peter Millar – Legacy West; Patron Reception Sponsor; BenefitsTexas, Auction Sponsor; D1 Scouting, Valet Sponsor; Town & Country Roofing, Lunch Sponsor; Zigatta, Cart Sponsor; Marsh & McLennan Agency, Bourbon Pull Sponsor; Messick Peacock & Associate, Tent Sponsor; Candy and Scott Lane, Awards Sponsor; The Beck Group (2), Jordan Flournoy LLP, Becky and Rick Welday, Beverage Station Sponsors; Something Pretty Floral, Floral Sponsor; Dorfman Pacific, Hat Sponsors; Legacy Print Group, Print Sponsor; Candlelight Films, Video Sponsor; City Central, Website Sponsor; and 5 Star Expeditions, Armstrong Accountancy P.C., Charles Armstrong, CPA, Digital Range, Fluellen Cupcakes, Frost Bank, Stephanie and Loren Hsiao, Park West Gallery, Peter Millar (2), Pockets Menswear, Water Event, and Gary Wolfe, MBA, CPA, LUTCF, ChFC, CLTC, AEP, RICP (2), Hole Sponsors.
TeamConnor has donated more than $2.6 million in grants to the top research hospitals in the United States conducting cutting-edge research of childhood cancers.
TeamConnor hosts several events throughout the year to raise funds and awareness for childhood cancer research, including the 15th Annual III Forks Golf Classic, May 5 - 6, 2019; Splash Out Childhood Cancer, Summer 2019; and the 9th Annual Northwestern Mutual Clay Shoot, November 4, 2019. For more information on how to join the fight against childhood cancer, please visit teamconnor.org or Facebook.com/TeamConnor.