Local News
Bonham City Council selects Emmitt Hill as Employee of the Month
Feb 17, 2019
Bonham, Texas -- Emmitt Hill, an Equipment Operator II with almost five years experience working for the Bonham Street Department, is the most recent Employee of the Month for the City of Bonham. The presentation was made during the regular meeting of Bonham City Council held Monday, February 11, 2019.
Some of the remarks that helped Mr. Hill stand out in this monthly competition included, "He goes the extra mile," "Friendly and always has kind words," "Only positive interactions with citizens," "Steadfast in his duties," and "Proud to work with him."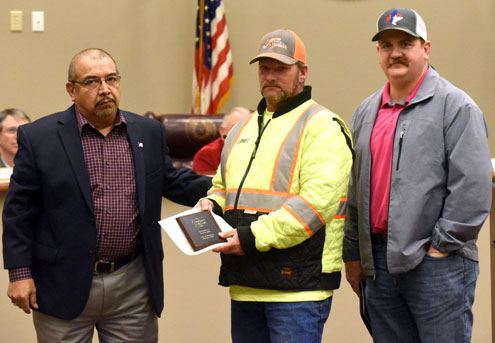 (L-R) Tony Rodriguez, Bonham City Council; Emmitt Hill; and Brad Nichols, Human Resources
Each Employee of the Month receives four hours of paid time off and a $50 gift certificate. At the end of the year, the Employee of the Year will receive eight hours of paid time off and a $250 gift certificate. The awards are part of an initiative to provide more incentives and improve morale among city employees.
*****
Bonham City Council opened the meeting by approving minutes of the January 14 regular meeting.
*****
Dave Struchtemeyer, CPA, Director of Finance for the City of Bonham, presented the January 2019 financial report to Bonham City Council.
"We went 'live' with the general ledger and accounts payable modules on the 28th of January," Mr. Struchtemeyer reported. "All data from the old system was converted and is in the new system going back for seven years and this month the financial reports were generated from the new system. The next phase is to implement and integrate the utility billing modules."
Struchtemeyer relayed to councilmembers that ad valorem tax collections through January are just over two-thirds collected with nearly a million dollars collected in the month of January.
*****
In public forum, Myrna Trubey spoke in support of her husband, John Trubey, who represents Ward 2 on Bonham City Council.
Emily Porter told councilmembers that the digital sign is up at the corner of Hwy 121 North and State Highway 56 and she expressed appreciation to Code Enforcement Officer Mark Posey, Howdy Howdeshell's crew with Bonham Street Department, City Manager Sean Pate, and Glenn Taylor for their assistance. Mr. Taylor was also commended for repairing the restroom at Bonham Visitors Center.
Rusty Deets questioned the lack of sidewalks around the new Bonham High School.
While councilmembers aren't allowed to respond during this segment of the meeting, Bonham City Manager Sean Pate would later explain that he is currently working with TxDOT officials to resolve this matter by having TxDOT install sidewalks where they are needed at the high school.
*****
Bonham City Council unanimously passed a resolution extending the city's appreciation to TxDOT for making roadways ADA compliant.
*****
Bonham City Council approved an order calling for a general election to be held on May 4, 2019 to elect councilmembers from Ward Nos. 2, 3 and 4. Those seats are currently occupied by John Trubey (Ward 2), H. Compton (Ward 3), and Jerry Gay (Ward 4). All are three-year terms. Candidates must live in the ward the are running to represent, however all city voters can vote in all three races.
The last day for candidates to apply for a place on the ballot is February 15.
Election day is May 4 and early voting will be April 22 to April 30. The days with extended hours during early voting will be April 25 and April 30. All voting will be at Bonham City Hall, 514 Chestnut Street.
Potential candidates should contact Bonham City Secretary Heather Stockton at Bonham City Hall 903-583-7555 for more information.
*****
Bonham City Council replaced a 1947 parking ordinance with an updated parking ordinance which requires "head in" parking in angular parking spaces located in the 200, 300, 400 and 500 blocks of North Main Street, the 100 block of West 5th Street, the 100 block of East 5th Street and the south side of the 200 block of East 5th Street, the 200 block of East 3rd street and the 400 block of North Center Street.
Exemptions include vehicles being used for providing repair services to a building in near proximity, as well as vehicles being used to load and unload merchandise or supplies in a timely manner.
*****
Bonham City Council appointed Tom Thornton and Sondra Compton to serve on the HARC committee, with Councilmember Trubey abstaining. Mr. Trubey suggested that openings on committees be published in order to be more inclusive.
*****
In other business, Bonham City Council approved a Special Use Permit at 108 E. Sam Rayburn to allow a residence in the upstairs area; approved a Special Use Permit at 905 N. Center Street to change from commercial to residential use; and approved a Special Use Permit at 915 N. Center Street to change from commercial to residential use.