Sports
No. 5 Dodd City Lady Hornets 62, No. 12 Abbott 11
Feb 10, 2019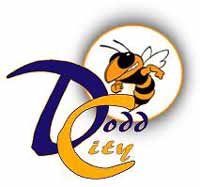 In a warm-up game, the No. 5 Dodd City Lady Hornets held No. 12 Abbott to only three points in the first half and three Lady Hornets finished in double figures as Dodd City cruised to a 51-point victory.

Dodd City led 18-3 after the first quarter and 40-3 at halftime. The Lady Hornets went on to post a 62-11 win.

Dodd City sophomore Journie Hilliard led all scorers with 18 points, Delaney Pilliod scored 16, Cassidy Herron had 12 points, Dani Baccus put up seven points, Sarah Brent finished with five points and Marissa Mills had four points.

With the victory, the Dodd City Lady Hornets move to 30-3 on the season.