Front Page
Krewe of Barkus Parade in McKinney March 3
Mar 3, 2019
McKinney, Texas -- The annual Krewe of Barkus Parade will be held Sunday, March 3 in downtown McKinney and it's getting real this year! The theme for 2019 is a genre of television that has infiltrated our culture and become wildly popular. Do you remember Candid Camera or The People's Court? How about Survivor, Jersey Shore, or Fear Factor? What do all of these shows have in common? They are Reality TV!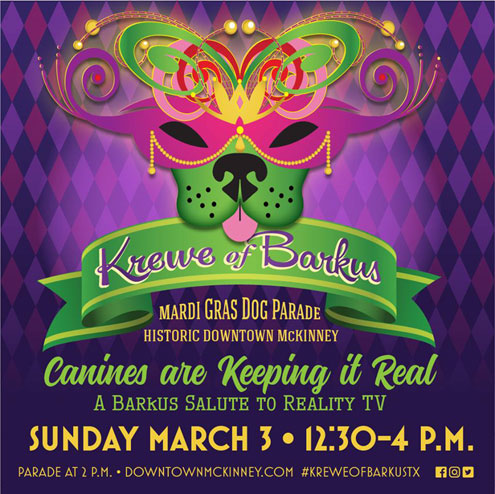 There will be some exciting changes in this year's event. New vendors and exhibitors will be part of a New Orleans inspired street festival in downtown. Prizes, graciously donated by the merchants of McKinney, will be awarded to multiple group categories.
The event is free and open to the public at no charge. There is a small registration fee for those who wish to participate in the parade and costume contest. Pre-Registration and confirmation is required to be in the parade.
To register for the parade, click this link: register with our online form! We'll need your name & contact info, as well as info on your dogs and their costume. Floats (decorated wagons) can also be entered. Cost is $5 per dog and/or float. Space is limited. Check in is at 12:30, line up at 1 and parade promptly at 2 pm. **New check-in location announced soon.** Registered participants will be notified prior to the parade. Updates will be posted on the Barkus website, Facebook page, and social media accounts.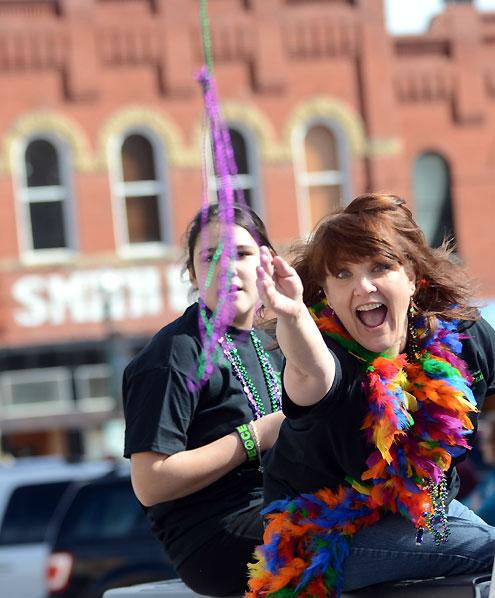 Event founder Blynda Christian tosses beads as the parade circles the square in historic downtown McKinney.
Don't miss the Amazing Race for America's Top Mutts. So, say Yes to the Dress, put tiaras on your terrier toddlers, and join the fun. It's going to be a howling good time!
Here are some popular Reality TV show through the years to give you ideas: This Is Your Life, Star Search, America's Funniest Videos, The Crocodile Hunter, The Osbornes, America's Top Model, The Biggest Loser, Dancing With The Stars, The Amazing Race, Real World, Keeping Up With The Kardashians, The Voice, Shark Tank, Pawn Stars, Hell's Kitchen, Real Housewives, Extreme Makeover, Dance Moms, Duck Dynasty, Say Yes To The Dress, American Idol, The British Bake Off, Top Chef, The Bachelor and Bachelorette.... And more!
Questions about the parade? Contact Blynda Christian at kreweofbarkustx@gmail.com
For information about vendors, contact McKinney Main Street at 972-547-2660.
Please forward to anyone who may be interested in attending or participating!