Obituaries
John Ramsey
Jan 18, 2019
Bells, Texas -- John Wayne Ramsey, 76, who had a passion for photography, auctions, military vehicles, and horses, passed away after a brief illness on Wednesday, January 16, 2019 at Carrus Hospital in Sherman. A memorial service celebrating and honoring his life will be held on Saturday, January 26, 2019 at 11:00 a.m. at the First United Methodist Church, 301 S. Pecan, Bells, Texas. Rev. Wally Butts of the First United Methodist Church will officiate, and the Bells Masonic Lodge will conduct Masonic Burial Ceremonies along with Military Honors at Rose Hill Cemetery in Bells, immediately following the service. Family night will be held from 6:00 p.m. to 8:00 p.m. on Friday, January 25, 2019 at Mullican-Little Funeral Home in Bells.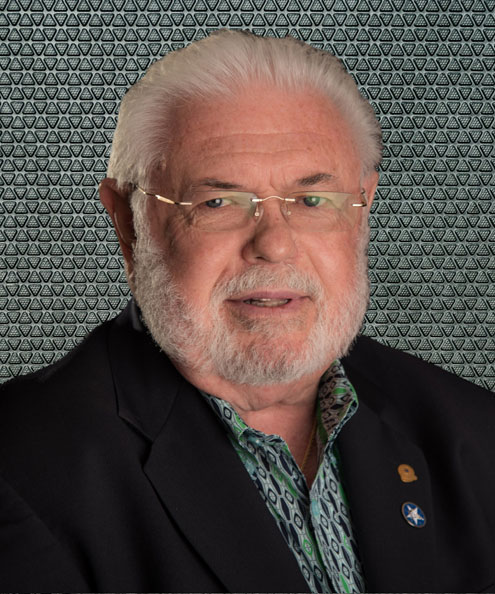 John was born to Wayne and Fairy Dunn-Ramsey on May 12, 1942, in Bells, Texas. He married Linda Sue Cummings and to that union was born their children, Jason Wayne Ramsey, Racquel Renea Ramsey-Hammel and Tiffany Nicole Ramsey-Porter. Later in life on November 20, 1980, he met his significant other, Martha Sutherland and they were inseparable for over 29 years, until Martha's death in November 2009. Martha had one daughter, Tara Sutherland-Brown and John "adopted" her as one of his own.
He was a life-long member of the First United Methodist Church in Bells and served on the Finance Committee. John was a 1960 graduate of Bells High School and during his high school years worked at Ashburn's Ice Cream and gained the nickname, "The Big Dipper" along with his younger brother, Billy who was called "The Little Dipper." He attended Texas A&M University from 1960-1961 and was a member of the Texas A&M Corps of Cadets. In 1964, he joined the United States Army and served until 1966, receiving an honorable discharge. In 1967, he attended East Texas State University.
John worked in the insurance industry and was an agent with Farm Bureau in Fannin County and later owned his own insurance business in Bells. In 1983, John made the decision to run for public office after the current Tax Assessor, Ruth Wiley had passed away while in office. He was elected to serve and was immediately sworn in to start his first term. He was one of the last Democratic candidates to hold office in Grayson County for 28 years and was re-elected for six consecutive terms and retired in December 2012. Usually once a year on a cold day you could count on John bringing all the fixins' to make chili for his employees. He also made a point to invite the other departments in the courthouse to stop by and enjoy some as well.
John was involved in numerous organizations over the years and volunteered many hours helping others. He was a long-time member of the Bells Masonic Lodge and served as Past Master. He was currently serving as District Deputy Grand Master which was an appointment he received from the Grand Masonic Lodge. John was an active Hella Shriner and a member of the Scottish Rite of Freemasonry. He was the current President as well as Past President of the Sherman Noon Lions Club, with 27 years of active participation and Past President of the Bells Lions Club. He served as Past President of the State Tax Assessor Collectors Association and received the TACA Distinguished Service Award as well as Tax Assessor Collector of the year in 1992.
After retiring from Grayson County John continued to be the event photographer at their annual meetings. He served on the Grayson County Sesquicentennial Committee. He was the current President of the Grayson County Historical Commission and was current member of the Bells City Council.
John enjoyed spending time as a Ham Radio Operator and was active with the Grayson County Amateur Radio Club. He had a love for military vehicles and owned several of them and you would usually see him driving one of them in local parades or at an event displaying them around town.
John would put out flags at local cemeteries on Memorial Day, July 4th and Veteran's Day to remember and honor those who served our country. John was an 11-year member of the Red River Valley Military Vehicle Preservation Association, a member of the Vietnam Veterans Association and a member of the Old Settlers Association of Grayson County. He was an active member of the Grayson County Democratic Party and stayed true to his political party even as Grayson County shifted to a Republican party leadership. John was also a buyer at the Texoma Exposition and Livestock Show for many years supporting the youth of Grayson County.
John was preceded in death by his parents, Wayne and Fairy Ramsey. He is survived by one brother, Billy Ramsey and wife, Ilaine of Sherman as well as his children, Jason Ramsey and wife, Angela of Maypearl, Texas; Racquel Hammel and husband, Tadd of Grapevine, Texas; Nicole Porter and husband, Kirk of Keller, Texas; and Tara Brown and husband, James of Frisco, Texas. Grandchildren are Sierrah Garcia, Abigail Ramsey, Jedidah Wayne Ramsey, John Michel Ramsey, Michael Wilkins, Kaleb Porter, Luke Porter, Levi Porter, Tanner Wall, Janson Wall, Madeline Brown, Kariana Brown and Sophia Brown. John is also survived by four great grandchildren, numerous nieces, nephews, cousins and a host of friends.
If desired, memorials may be made to the First United Methodist Church of Bells, P.O. Box 155, Bells, Texas 75414, the Scottish Rite Children's Hospital, 2222 Welborn Street, Dallas, TX 75219, or Shriners Children's Hospital (www.shrinershospitalforchildren.org). The online guestbook can be signed at www.mullicanlittle.com