Local News
2019 Annual Bonham Chamber Awards Banquet: Casino Night
Jan 21, 2019
Bonham, Texas -- Take a chance on a good time at the 2019 Bonham Chamber of Commerce Annual Awards Banquet. The evening will include FREE casino game play, dinner, auction, and a special time to honor some of Bonham and Fannin County's most outstanding businesses and citizens from the previous year. Come out on February 2, at the Fannin County Multipurpose Complex. We will recognize: Public Servant of the Year, Business of the Year, Volunteer of the Year, Citizen of the Year, New Member of the Year, Agriculturalist of the Year, and the Lifetime Achievement Award.
The evening begins with hors d' oeuvres at 5:00 p.m., February 2, at the Fannin County Multipurpose Complex. Mix and mingle with old friends and new. Wine tastings, single glass and bottles will be available for purchase directly from the wine vendors present.
Casino tables will open after the program. Each person attending the banquet will receive an allotted number of beginning chips with their ticket. "Winnings" can be exchanged for raffle chances at the end of the night. You do not have to be present to win a raffle.
Dinner begins at 6:15 p.m. with the presentation of awards and live auction featured after the meal.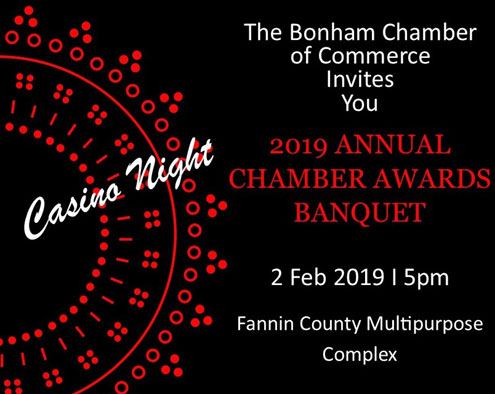 Join us as a sponsor! Table Sponsorship - Represent yourself and your business, and ensure everyone in your party will be seated together by purchasing a table. Solidarity, Presence, Perks. Benefits: reserved seating for eight, near the stage, casino chips, recognition in the program and at the banquet.
Auction/Raffle Sponsor - If you're looking for a more flexible sponsorship package, look no farther. Contribute to our auction/raffle items, and be recognized at the event.
Unmanned Display Table: (For chamber members only) Reserve a space to set up an unmanned, informational display. The Chamber will provide a table. You must reserve a spot, at no charge, to have a display space at the banquet. Attendance at the banquet is not required. The complex will be open for setting up displays.
The Chamber will be selling tickets until January 31. Individual tickets (Meal Only): $35. Table for Eight $400. Two Tables: $750.
Come out and help make this a great evening for these deserving honorees. Everyone is welcome! February 2, 2019, Fannin County Multipurpose Complex. Tickets can be purchased online now at www.bonhamchamber.com. Or call the Chamber at: 903-583-4811.