Sports
Cold water cattin'
Jan 4, 2019
When many fishermen think of catching channel catfish, images of warm, sunny summertime days comes to mind. Cool winter days are reserved for drift fishing for catching trophy blue catfish, right? Well, not if you fish Lake Fork and certainly not of your name is Stubby Stubblefield, maker of Stubby's Cheesebait.
Stubby has spent almost half a century guiding fishing trips for not only catfish but stripers and largemouth bass as well. But for the past several years after moving to the shores of Lake Fork, he mainly targets the lake's plentiful channel catfish.
"I began experimenting with making my own catfish bait about 15 years ago," said Stubby as we breezed along in his roomy guide boat early this week to one of his several 'baited holes', where he catches channel catfish year-round. "From the get-go my goal was to make a bait that was the best one on the market for attracting and catching channel fish but also one that didn't smell to high heaven. It also had to be of a tight consistency that would stay on a treble hook well."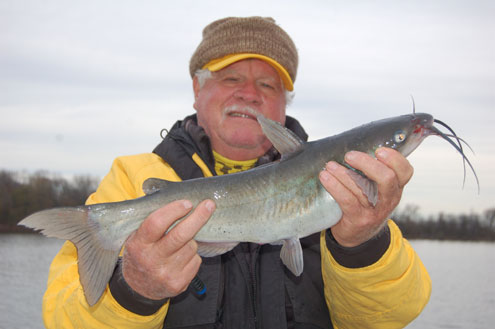 Stubby Stubblefield, maker of 'Stubby's Cheesebait' with a chunky channel catfish landed at Lake Fork earlier this week. photo by Luke Clayton
"Feed them and they will come," is Stubby's motto and feed them he does with cattle range cubes. But after fishing with Stubby several times in the past couple years, I've learned that while randomly choosing a spot to bait with range cubes will probably attract catfish, there are other pieces of the catfish-catching puzzle that need to be in place to consistently catch fish in numbers.
Channel catfish are appropriately named. They absolutely love hanging on ledges or drop offs which fall abruptly into creek channels. The bottom hugging species can quickly go from deep to more shallow water with a few flips of their tail, depending upon where the most comfortable water column is located on a given day. Almost all of Stubby's baited holes are situated around structure situated right on the upper ledge of a creek channel. Locate an area where a couple of channels converge and you have found catfish heaven, regardless whether you're fishing the sultry weather of midsummer or during the chill after the passing of a winter's cold front.
Bottom depth can be a factor as our trip this week proved. Stubby had been consistently catching fish in water about 23 feet deep on one of his holes. Naturally, this was the first spot we stopped to fish. While I was more than pleased getting a bite every few minutes, Stubby commented that the action was a bit too slow for him.
"It's a good chance the passing of the cold front pushed them into a bit deeper water," said Stubby. "Let's fish a spot close to 30-feet deep and see if we can find a concentration of fish."
I always hated to leave biting fish but we cranked our baits in, took a five-minute boat ride, tossed out a couple of double handfuls of range cubes and promptly had our baits dangling a few inches above bottom. I glanced at the sonar and noted we were in 28-foot water. I wondered if the difference of five feet could possibly make a difference. The next few minutes proved that it certainly can! The frequency of bites increased to the point that as soon as the bait hit bottom and the slack taken out of the line, it was important to hand on and 'feel' for the often subtle bite.
While some of the catfish whacked the bait hard, the prevalent bite was soft, often just a slight jiggle of the rod tip or possibly the 'feel' of the rod loading up and the line getting a bit taught as a catfish sucked the bait into its mouth. Stubby builds some state-of-the-art extremely sensitive catfish and crappie rods. I can truly say that had I been using my old catfish rod, I would have missed most of the bites.
I have fished with a great many pro fishermen that I considered to be expert 'finess' fishermen, guys and gals that could set the hook on a bite that I could never detect. But on this trip, I was fishing with one of Stubby's custom rods and, not bragging but I think I caught about as many catfish as the pro I was fishing with. I don't attribute this to any great angling skills on my part but rather to the difference a quality rod makes in detecting the 'soft' bite of a tentative biting fish.
Crappie, especially those caught from cold water, are notorious for their soft bite that is often hard to detect. But when most anglers think of catching catfish, they believe a buggy whip limber rod with a strong backbone will always get the job done. But this is usually not the case, especially when the fish are on a tentative bite. The sensitive tip on these rods made all the difference. Combined with a spine or backbone strong enough to drive the hook home on the hookset, these rods were obviously one of the prime reason for our box full of good eating channel cats.
I would be remiss not to brag on the flavor of crispy fried catfish fillets caught from cold water. While catfish are tasty regardless the time of year they are caught, there is something very special about the flavor of those caught this time of year. After well over a half century of catching catfish, I always seem to learn something new when fishing with pros like Stubb. On this trip, I learned that I might just be a fair 'finesse' fisherman after all. I've just needed the right fishing rod all these years!
For more information on catfishing at Lake Fork, contact Stubby Stubblefield at 817-366-5492.
Listen to "Outdoors with Luke Clayton and Friends" on radio stations from Nebraska to Texas on weekends or anytime online at www.catfishradio.org.