Farm and Ranch
Regional Trail Master Plan presentation in Gober Dec. 11
Dec 10, 2018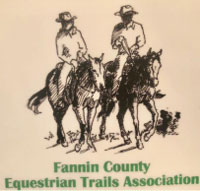 Fannin County, Texas -- A Regional Trail Master Plan presentation will be held December 11 at Gober Community Center, FM 68, Gober.

A Potluck dinner begins at 6:30 p.m. , followed by the presentation at 7:00 p.m.

Please join Jan Johnson - Gober MUD and Duke Monson - Fannin County Equestrian Trails Association to provide your input and suggestions for ways to preserve and enhance the unique rural experience of Fannin County.

This presentation will review the proposal for a Master Trail Plan, supported by Fannin County Commissioner's Court. A Trail Plan for the future will benefit residents and attract eco-tourism to support local businesses.