Local News
Upcoming Christmas holiday events from the Bonham Area Chamber of Commerce
Nov 17, 2018
Bonham, Texas -- Christmas Holiday Parade: Make your plans to attend the Bonham Area Chamber of Commerce 2018 Christmas Holiday Parade at the Courthouse Square in Bonham on Saturday, November 17 at 6:15 p.m.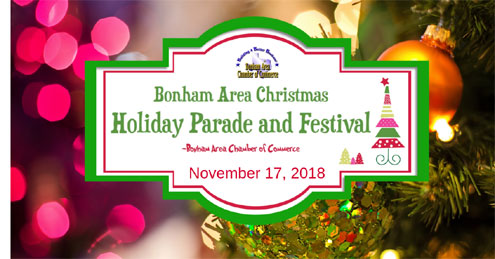 Due to the construction on the courthouse, there will be reduced decorations and activities, but we trust more Christmas cheer than ever! And our window painting elves are outdoing themselves this year!
Santa will be on hand for a toy/food drive after the parade. Donate a toy or non-perishable food item and receive a free 5x7 photo with Santa! Brought to you by Bonham Chrysler and Legend Bank. After the parade attend the community concert at the Armory, beginning at 8:00 p.m.
Float entries must register by November 14! Entries wishing to compete for prizes must submit an entry fee with their form. Non-competitive parade entries are free. Prizes: 1st - $500, 2nd - $250, 3rd - $100, Honor Awards: Best School Spirit, Cars & Trucks Award, Best Parade Spirit. Our Judges will be: Sheriff Mark Johnson, Judge Laurine Blake and Judge Elect Randy Moore. Find details and forms at www.bonhamchamber.com.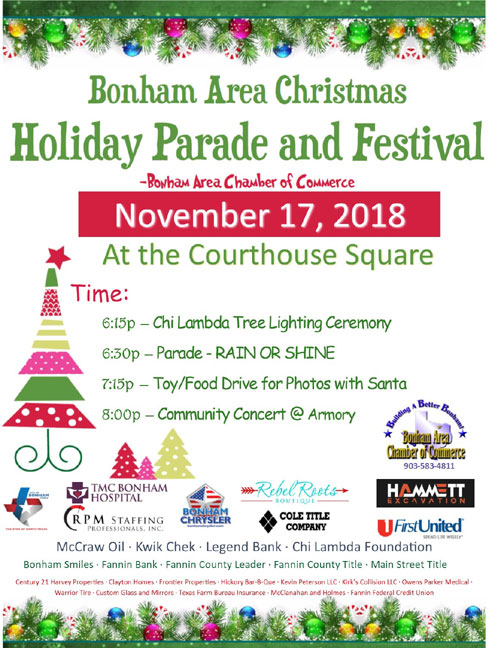 Bonham Christmas Holiday Parade

November 17, 2018

6:15 p.m. – Chi Lambda Tree Lighting

6:30 p.m. - Parade Starts (Photo w/Santa immediately after parade)

8:00 p.m. – Community Concert at Armory

Thanks so much to the sponsors of our Christmas parade! The Chamber of Commerce couldn't do it without them. Gold Sponsors: Bonham Chrysler, City of Bonham, Cole Title Company, First United Bank, Hammett Excavation, Rebel Roots Boutique, RPM Staffing, TMC Bonham Hospital. Silver Sponsors: Chi Lambda, Kwik Chek, Legend Bank, McCraw Oil. Green Sponsors: Bonham Smiles, Fannin Bank, Fannin County Leader, Fannin County Title Company, Main Street Title. And all our Red Sponsors.

Also, come and join us November 15, 11:00 a.m.-2:00 p.m. as the Chamber of Commerce participates in welcoming Alan McDonald, Community Bank President at First United Bank's OPEN HOUSE & COMMUNITY APPRECIATION. They will be serving serving BBQ & desserts. Don't Miss the Door Prizes!

Lollipops on the Square: technically, not a part of the Christmas parade, but definitely a part of Christmas in Bonham. You can have a new lollipop designed for $40 or if you have one from previous years, that can be put out for $25. Contact the Chamber at 903-583-4811 or go online. We will continue to take lollipop orders until December 5.

December 1: The Holiday Wine Stroll & Taste of Bonham will come to Bonham once again, find more information on the Chamber website.