Entertainment
Spanky Carter reflects on two terms as Fannin County Judge, early years in Sherman
Jan 4, 2019
Fannin County, Texas -- Early in the evening of Saturday, March 6, 2018, when it became clear that in the race for Judge of the Commissioner's Court of Fannin County, Republican voters were going to choose a political novice named Randy Moore instead of sticking with the two-term incumbent, Judge Spanky Carter, the losing candidate told a friend, more with resignation than sorrow, "Well, they may quit on me, but I would never have quit on them." That evening, Carter walked across the street to congratulate his successor and offered to help him with the transfer of administration when the job changes hands in January.
*****
"My grandfather's name was Creta Gentle Carter and my father's name was Creta Lynn Carter. My full name is Creta Lynn Carter II. They called my grandfather Creta or CG, and my father Lynn, and they wanted to call me something else, so from day one, they called me Spanky. I was told that my father had a friend called Spanky, and of course there was the Spanky of the Little Rascals."
He was born in Sherman in 1959, the first of three children in the family, and grew up on S. Vaden St. next door to his grandparents. His father worked for the telephone company. "He went to work there when he was 17 expecting it to be a temporary job, and stayed there for 32 years," he recalled.
Carter graduated from Sherman High School in 1977 where he played guard on the '76 Bearcat team that advanced two rounds into the playoffs before losing to Temple, the eventual state finalist, on penetrations. Fred Akers' Texas Longhorns offered him a football scholarship, and so Carter headed for Austin where he donned the burnt orange. "I stayed two years and ended up leaving," he said. "I wasn't getting to play much, and things weren't working out the way I figured. It's something in my life I've always regretted. I wish I had stayed."
At the end of his sophomore year, Carter transferred to Angelo State in San Angelo, and played football for two years as a starting lineman for the Rams. Expecting to be a coach, Carter got his degree in kinesiology, but upon graduation he went to work for an insurance company in San Angelo. That did not last long. "I just wasn't interested in it," he said, so it was back home to Sherman and a job at Libbey-Owens-Ford glass works. For two years he worked in quality control building automobile windshields. It was a job, but little more, and Carter was always looking for that "little more."
He finally found it in the realm of business, a discipline he had always found fascinating, and the direction he had started during his first semester in Austin. "I really enjoy business; I really do. To be honest—why I changed my major—I had problems with the math, and ended up changing my major, but when I left L-O-F, I opened up a business."
The business was Spanky's Pawnshop, and after a few years, he expanded his entrepreneurial reach with Spanky's Bail Bond Company and then Spanky's Used Cars. Forget the math requirements of a business degree, Spanky Carter had something better when it came to business; he had the touch, that indefinable quality of seeing opportunities, seizing them, and making them work that sets the successful apart from the field. "I made a lot of mistakes, but I wouldn't trade any of those experiences."
Carter still has his pawn license, even though he sold that business long ago; he sold off the bail bond operation and the used car lot and then made another calculated decision. He was going to law school.
"It's something I had always wanted to do, and I always thought that would be something I would really enjoy." At age 31, the businessman turned would-be-lawyer enrolled in the new, proprietary Dallas Fort Worth School of Law, and started a new career as a night law student. The decision was a roll of the dice, as the school was not accredited by the American Bar Association, and its graduates were not eligible to stand for the Texas Bar Exam.
"I was in the school's second class; I would drive to Irving four nights a week, Monday through Thursday for class from 6:30 to 9:30." By this time, Carter was married with two children and another on the way (There would eventually be five little Carters) and three businesses to keep an eye on. "I met my wife, Donna, in 1985 in Denison. She's from Calera, Oklahoma. We dated for a little over a year and then got married in 1986. We've been a team for 32 years and counting."
It took four years, but Carter persisted and by the time he finished in 1994, the law school had been absorbed into the Texas Wesleyan Law School in Fort Worth and was ABA accredited. "It was hard. I had never been the best student, in high school or college, and in law school I had to work as well as be a student," he recalled.
Meanwhile, Carter the law student was getting something most students do not get anymore, some in-house training on how the practice of law really worked. "I had a lawyer friend, Ken Daniel, whose office was just down the street from the bonding company, and he let me come over there and hang around and help out. He did criminal law and family law. He ran for county court at law judge, and when he got elected, and I graduated and passed the bar, I just sort of took over his practice.
"I got the letter telling me I had passed the bar exam on May 5, 1995—my grandmother's birthday. It was on a Friday, and I went right over to the courthouse and got Judge Ray Grisham to swear me in. They had the swearing in before the supreme court in Austin about a week later, and I went to that too, but I was in a hurry. I tried a case the following Monday. It was an assault and battery case, and we won."

Starting lawyers usually take whatever comes in the door, and Carter was no exception. "I did criminal, family, and some personal injury law. I just tried cases. I probably picked more than 200 juries. That's what we did every week. We just tried cases."
He tried cases, and he and Donna got busy raising five children. Everything stops, and Carter beams when he talks about his kids. "They're all high achievers. Trey, the oldest boy, played football at Sherman High and went on to play baseball in college and two years in the pros. Casey, he's my middle son, right now he works for LaSalle Corrections, a private jail company. He's probably the smartest of my kids. Some day, he may go to law school. He'd make a good lawyer; he's a thinker. Madison, my youngest boy, played baseball at Grayson and for the University of Texas in the College World Series.
"Lindsay is our youngest daughter. She was a basketball player for Dodd City when they went to the state finals game a couple of years ago. Now, she's a sophomore on an academic scholarship at Concordia College in Austin and still playing basketball. She probably works harder on basketball than any of my boys did. She is so dedicated.
"And Jessica, my oldest daughter, let me tell you about her. She's really something. She graduated from the University of Oklahoma and got accepted to OU law school. That summer, before law school started, she went to Washington to do an internship with Congressman Ralph Hall. At the end of three months, they asked her if she'd like to come back and do a nine-month internship.
"They told her she could defer her OU admission for a year and work for them, and that's what she did. Two months later, there was an opening on Hall's staff, and they offered Jessica the job. What about law school? Long story short, she got accepted at Georgetown Law; she went there and graduated from Georgetown and eventually worked for Texas Senator John Cornyn. Right now, she is clerking for a federal judge in Virginia. She got married in July, and her husband, George Leonardo—he's from Rhode Island—is studying law at George Washington University in D.C."
After raising five outstanding children, Donna Carter is back in the baby business helping to take care of her first granddaughter Emory Grace, for son Trey and his wife Allison. And as of October 15, you can add another Carter to the list, Trey and Allison's second child, Lainey Denise. On the side, Donna keeps the books for Carter's three radio stations.
Radio stations? What was happening while the kids were growing up? A lot, that's what. After Carter started his law practice, he sold the pawnshop and the car business, and his dad ran the bail bond operation for a while. Things were looking good. But Carter was never one to stand still; he still had things to do.
The third leg of the Carter business and law interests is broadcasting. After acquiring KFYN-AM 1420, which had served Fannin County since 1948, and adding an FM repeater at 95.7, he got a license to build and operate KFYN FM, 104.3 The River, licensed in Detroit, Texas near Paris and acquired KLOW FM 98.9 The Trumpet licensed to Reno, Texas also in Lamar County.
"Trey helped me put all of that together, and now he's going to law school in Oklahoma City. He goes up there early Monday morning and comes back Thursday night," Carter said. "He's kind of doing what I did. He bought a house up there, but he and his wife live in Bonham."
"There were two things I had always thought I wanted—one was to be a lawyer, the other was to have a place on the river." With the kids grown or in college, he bought a farm on the Red River near the Fannin County community of Mulberry. "Closed on it in January 2000. Donna and I waited until Madison had finished high school in Sherman and then we moved to the country. Lindsay was in the sixth grade, and was OK with a new place and new friends in Dodd City."
Carter opened a law office in Bonham, and bought the local radio station, KFYN. He also got into real estate. "I got into real estate in the early '90s. Actually, I guess I started in 1986; when I bought the pawnshop, I bought the building. Then, during the savings and loan crisis of the early '90s when everybody was going broke, my partner, Ken Daniel, and I ended up buying 49 houses in Denison. A man who owned more than 100 houses left 49 of them to a charitable organization in California. Well, they couldn't manage them, so we bought them. I ended up buying my partner out, and was in the real estate business."
Once again Carter was in the right place at the right time and had the confidence to seize an opportunity when it was presented. And like his other ventures, he brought to it that indefinable touch that translates to success.
"I just kept adding to it," he said. "I just bought an apartment complex in Bonham, and now I have about 170 doors. That's what I enjoy more than anything; I enjoy practicing law, and I enjoy business and real estate." And Carter is quick to say it is not all about him. "Bonnie Sinor has been my personal secretary and assistant for 30 years, and I hope I'm as good to her as she has been to me. She helps me keep everything in line."
*****
The move to Fannin County took place in the summer of 2009, and just over the horizon was a new challenge Carter probably had never contemplated. Until he moved his family to the farm in Mulberry, Carter had never entertained ideas of political office. He was a lawyer and a businessman, and that was enough. But that began to change when he met a neighbor, a former judge of the commissioners court in Fannin County, Derrell Hall.
"Derrell was a great guy, and I got this in my mind," Carter said. "I had made a lot of money practicing law, and I had made some money with my real estate. I had worked hard, and I got to thinking that if I ever wanted to get into politics, I would enjoy being the county judge more than anything.
"My great-grandmother was born in Fannin County in 1889; my grandmother was born in the county in 1912. They were like a lot of people, they didn't have much education and they were poor. I saw Fannin County as an opportunity, not so much for me, but—well, it never seemed a lot had happened over there. I knew they had been talking about building a lake over there, and about restoring the courthouse, and I thought I could make some of those things happen and decided that's what I wanted to do with the rest of my life.
"I looked at Choice Moore; he had been judge for 25 years, but since then no judge had held office for very long. When I became judge, I was the fourth county judge in four years. There was a lot of turmoil. I saw it as a challenge. I was going to be county judge for the rest of my life, and see what we could make out of Fannin County."
Carter said that he had always seen Bonham and Durant, Oklahoma as similar towns, except that Durant had a college. In the same primary election in 2010 that garnered Carter the GOP nomination for county judge, but before he actually took office in January 2011, the voters soundly defeated a proposal that would have brought an adjunct campus of Grayson College to Bonham. "A man was going to give us 100 acres for the campus, and I thought that this was the greatest thing. I went around boosting the idea to anyone who would listen. They voted it down by 75 percent."
The loss of the college solidified Carter's determination to bring change to a county that seemed determined to resist it, a resistance that hobbled the county when it came to acquiring new businesses and industries and moving forward. Fannin County seemed stuck in time and so very reluctant to move in any direction.
"I saw Durant starting to explode. A lot of people thought it was the casino, but I talked to people and they all said the same thing, 'It starts with one deal; getting one new business in town.'" And that idea became a driving force behind Carter's vision for the county. He worked with Bonham to recruit new business and woo the type of industry that could bring jobs and payrolls to the county, but it was difficult.
One of the most important of the county's projects was Bois d'Arc Lake. The $1.6 billion project to impound the waters of lower Bois d'Arc Creek for the North Texas Municipal Water District, will result in a lake of 16,641 acres, about a fifth the size of Lake Texoma, that will hold 376,609 acre feet of water and provide North Texans with more than a million gallons of water daily.
The project had been in the works since 2003, but to some degree had been in a hang-fire mode. Finally given the go by all the necessary agencies, engineers broke ground in February 2018, with an expected completion date of 2022. When finished, the lake should provide the foundation for recreational and industrial expansion the like of which Fannin County has not seen in decades. But Carter soon realized that serious problems were still unresolved.
"I tried to change some things; I wanted some things to happen," he said. One of those things was county zoning regulation for the lake, which despite having been authorized by the legislature was still stuck in limbo and being talked to death. "A lot of people don't want any zoning on that lake. If I'm 100 percent sure of anything, I'm 100 percent sure that we've got to have zoning around that lake. When I started to zone the lake, I went to a lot of different lakes and looked at how they had fared. The one that didn't have any zoning enforcement was Lake Tawakoni, and it's a mess. We don't want that. This is a great opportunity for Fannin County if we do it right." After ten years of talking, the commissioners court finally approved zoning regulations for Bois d'Arc Lake on October 30, 2018.
And there was more. Sand mining had taken hold along the Red River in a big way, and daily trucks hauled loads of Fannin County sand to cement plants in Fort Worth. The county had no regulatory control over the operations, and soon great empty pits dotted the once serene and pastoral landscape as some of the mining operations made no reclamation efforts.
But on the positive side, the historic Lake Fannin recreational area, hard along the Red River, has been returned to local control after decades of management and mismanagement by various federal agencies. Recently, the county signed a 30-year lease with the Forest Service to manage and control the 340-acres of the lake, lodge, and other buildings, and Carter said he expects a bill to return 2,025 more acres of lake property to the county to come out of congress and be signed by the President shortly.
Now, in the final days of his eight-year administration, Carter looked back on what he thinks he accomplished. "We never raised taxes; in fact we lowered the tax rate five out of eight years," he said. "We tried to take care of the county employees; we always gave them a raise because they didn't make much money, but we had good benefits and good retirement.
"And we made decisions. When I first got elected, they were talking about whether or not to have an animal shelter in Fannin County. They had been talking about this for more than ten years, but they never put it on the agenda. It was not on the top of anybody's list of things to do, and it was somewhat controversial because they didn't really have the proper funding. Finally we put it on the agenda. Two commissioners were for it, two were against it. I voted against it, because I thought there were more important things we needed to do. We made a decision; we went on down the road."
While it will not be completed until well after he leaves office, the most visible link to the Carter administration will be the restored Fannin County Courthouse. Built in 1888-89 with limestone from the Davis Quarry in nearby Gober, it will be the last of seven Texas courthouses designed by famed Waco architect Wesley Clark Dodson to be restored to its original configuration.
When finished, the Second Empire style building, three-stories tall with an elaborate mansard roof and soaring clock tower, which had been destroyed by fire on December 31, 1929, will once again look out over Bonham's town square. The interior of the building will be restored as well, and commissioners court will meet in the magnificent golden oak chamber on the east side of the building that once served as the district courtroom.
In July 2016, the Texas Historical Commission offered $5 million to aid in the project if the county would cover the rest of the cost. At the time, Carter and the court had reduced the county's debt load to zero, and they leveraged that success to gain voter approval of $12.5 million bond issue to cover the rest of the cost in November of that same year. The restoration is expected to be completed by November 2020.
What is next for soon to be ex-Judge Carter? "The guy [Randy Moore] who beat me is a good guy, and I wish him the best. I'm still going to live in Fannin County, I hope the county is successful, I want it to be successful; I told him after the election that if I could help him in any way, I would do it.
"I enjoyed most of it; I really did. I didn't much care for the politics; I'm not a great politician. I just wanted to be successful. I enjoyed the people, and I enjoyed working with the kids. It hurt to lose, but I wouldn't trade those eight years for the world."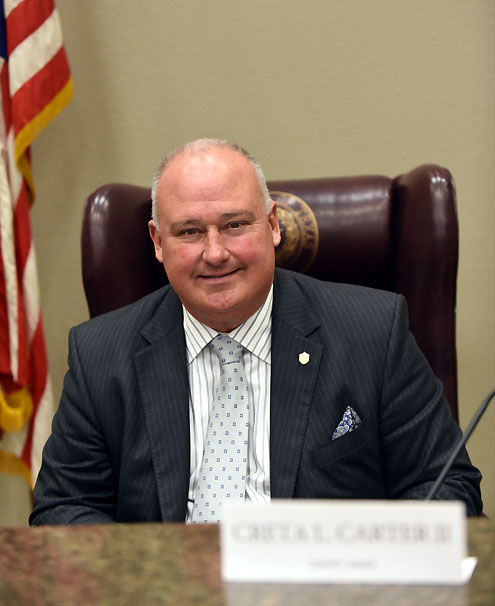 "I'm going to do two things for the rest of my life; I'm going to practice law and I'm going to stay in real estate. I'd like to handle some bigger cases, personal injury cases. I want to represent people I like, and people I think need help." To that end, Carter is building a new law office in Sherman just off the square, with living accommodations on the top floor. He expects to maintain his offices in Bonham and is looking for son, Trey, to join the practice when he finishes law school. He also said he looks forward to expanding his network of friends and professional colleagues. "I like to talk to people," he said. "I like to be around smart people and exchange ideas."
Add to the law practice, the management of his growing real estate holdings, and Carter would seem to have a plate full of things to do. He has talked about writing a book, but right now that is just still a germinating idea. What else? Spanky Carter is a man who recognizes opportunities and moves on them. That will not change, so there is no way to predict what he may see around the next corner.