Obituaries
Joe Wayne 'J.W.' Shannon Sr.
Oct 17, 2018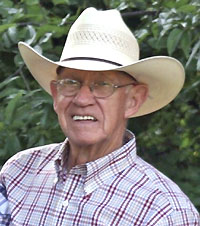 Honey Grove, Texas -- Funeral service for Joe Wayne "J.W." Shannon Sr., 84, of Honey Grove, Texas is scheduled for 10:30 a.m. Saturday, October 20, 2018 at First Baptist Church of Honey Grove. Mr. Shannon passed away on Tuesday, October 16, 2018 at The Sam Rayburn Veterans Home. Rev. Jay Smith will officiate assisted by Rev. Casey Rogers. Visitation will be held from 6:00 p.m.-7:30 p.m. Friday, October 19, 2018 at Cooper-Sorrells Funeral Home Chapel in Honey Grove, Texas. Interment will follow at Oakwood Cemetery.

Serving as active pallbearers will be Jason Bennett, Fred Fore, Jimmy Peebles, Chance Woodard, Walter Don Brown, and Bill Wheeler. Honorary pallbearers will be Justin Fore, James Skidmore, Ronnie Rudy, Jerry Magness and Dewayne Strickland.

J.W. Shannon Sr. was born in Direct Community on July 14, 1934 to Joe Shannon and Artie Lee (Tigrett) Shannon. He served in the U.S. Army. He married Charlotte L. Neeley in Honey Grove, TX on October 11, 1968. J.W. was a member of the First Baptist Church of Honey Grove, Texas. He retired from Merico, Earth Grain after 30 years and Fannin County Precinct 3 after 11 years.

He is survived by his wife of the home, Charlotte (Neeley) Shannon; daughters, Nerissa Bettes and friend Michael of Honey Grove, TX; Rhonda Whitley of Honey Grove, TX; Tammy Lewis and husband Tommy of Antler, OK.; sons, Craig Bryant and wife Vickie of Paris, TX; Scottie Bryant and wife Sabrina of Honey Grove, TX; Joe Shannon of Paris, TX; grandchildren, Melissa Householder and husband Eric, Matt Bryant and wife Cindy, Ashley Cunningham and husband Levi, Lauran Belyeu and husband Chad, Tyler Bryant, Victoria Bryant and friend Tanner Simpson, Cameron Day and friend Stephanie, Levi Bettes, Ryan Lewis, Cory Lewis, Chad Lewis, Aja Shannon, Caleb Darter, Mikala Darter, Kendal Darter, and Kyla Darter; great grandchildren, Kyle Brook, Case Householder, Luke Bryant, Jack Bryant, Paula Bryant, Rama Bryant, Raylen Pinkson, and Savanna Pinkson; great-great grandchild, Emma Brook Day; brother, J.R. Shannon of Sumner, TX; sister, Minnie Ryser; brother-in-law, Charles Neeley and wife Dollie; sister-in-law, Martha Burnsed; as well as several nieces and nephews.

He is preceded in death by his parents, Joe and Artie Lee (Tigrett) Shannon; brothers, Bernis Shannon and wife Judy, William Shannon and wife Mary, and E.J. Shannon and wife Ima; brother-in-laws, Carl Neeley and Billy Burnsed; sister-in-laws, Sandra Shannon and Jean Shannon.