Local News
The Lamar County Genealogical Society to meet Sept. 11
Sep 11, 2018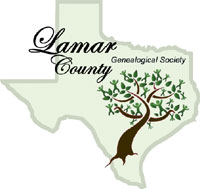 Paris, Texas -- The Lamar County Genealogical Society will meet Tuesday, September 11 at 7:00 p.m. For our program, we will have Anne Evetts, a native Texan, who has a great love of history of the Northeast Texas area. She will present a program on "Heritage and Historic Foods." She has put together a list of several foods that would have been common to ancestors of those living today. She will have items on display to show objects used in cooking and food preparation in earlier days.
Anne is primarily interested in diaries, journals and authentic accounts of how the early settlers lived, inheriting the Red River County history bug from her grandfather, past historian, Eugene Bowers, who co-authored the book
Red River Dust
. A graduate of East Texas State University, she is a longtime board member of the Red River County Historical Society as well as a member of the Red River County Genealogical Society and her home is in Clarksville where her family was pioneers.
You do not have to be a member to attend meetings of the Society so please come and bring a friend. The Lamar County Genealogical Society and Library is located at the south entrance to the historic Santa Fe Depot, 1135 Bonham St., Paris, Texas. If you wish to become a member, please see one of the officers for details after the meeting.
The Lamar County Genealogy Library is open Tuesday, Wednesday and Friday from 12:00 to 4:00 p.m., and Thursday from 8:00 a.m. to 4:00 p.m. In addition, the library is open the 2nd and 4th Thursdays from 8:00 a.m. to 8:00 p.m. as well as the. 2nd and 4th Saturdays from 8:00 a.m. to 4:00 p.m.