Local News
September 11 Day of Remembrance to be held in McKinney
Sep 11, 2018
This public event serves to honor those who gave their lives on September 11, 2001 and to honor our first responders
McKinney, Texas -- The September 11th Day of Remembrance event will take place Tuesday, Sept. 11, 2018 from 9:00 a.m.-10:00 a.m. at the Conference Center at Collin College located at 2400 Community Avenue. The event is held in partnership with the McKinney Chamber of Commerce Leadership McKinney Program, City of McKinney Public Safety, Collin County Sheriff's Office, Collin College, Baylor Scott & White Medical Center – McKinney, Landmark Bank and Frisco Printing & Graphics Center. The event is free to the public.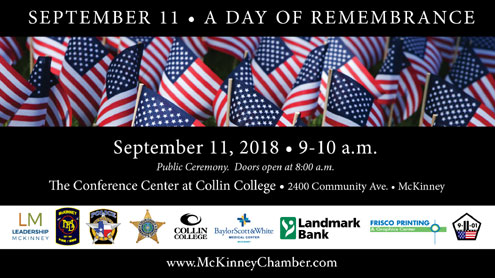 "We invite the entire community to join us as we pause to honor all who made the ultimate sacrifice on September 11, 2001," said McKinney Fire Chief Danny Kistner. "We remember the men, women and children whose lives were lost in what began as any other September day in the United States of America. We especially take time to remember the brave first responders – police, fire & emergency medical personnel - rushing to the scene, into buildings and up stairways – many of whom most certainly knew they wouldn't survive this last assignment. Our country pulled together as Americans on that fateful day and we pray once again for a renewed spirit of patriotism."
Two thousand nine hundred ninety-six people were killed in New York City, Washington D.C. and Pennsylvania by 19 terrorists in four hijacked airplanes. Each will be recognized at the event.
Doors will open at 8:00 a.m.
For up-to-date information about the event visit the Leadership McKinney Facebook event here.