Lifestyles
Auxiliary of Home Hospice of Grayson County to host annual membership luncheon Sept. 18
Sep 14, 2018
Stop and Smell the Roses
Annual Auxiliary Membership Luncheon
Sherman, Texas
Sherman -- The Auxiliary of Home Hospice of Grayson County will host its annual membership luncheon, "Stop and Smell the Roses" on Tuesday, September 18 at the Hilton Garden Inn, 5015 South US 75, Denison, Texas. This event will highlight the supportive role of the Home Hospice Auxiliary and provide an opportunity to invite others to join the organization.
This year's lunch will include an exciting program featuring Dave Tanner entitled "Nashville: The Stories Behind the Sound." The very name Nashville means Country Music around the world. Dave's 9th and newest program takes you behind the scenes to meet the creative dynamos who turned the staid and proper "Athens of the South" into "Music City." With songs, humor, and wardrobe straight from the Grand Ol' Opry, Dave's tour down Music Row introduces you to the lives and songs of Nashville legends.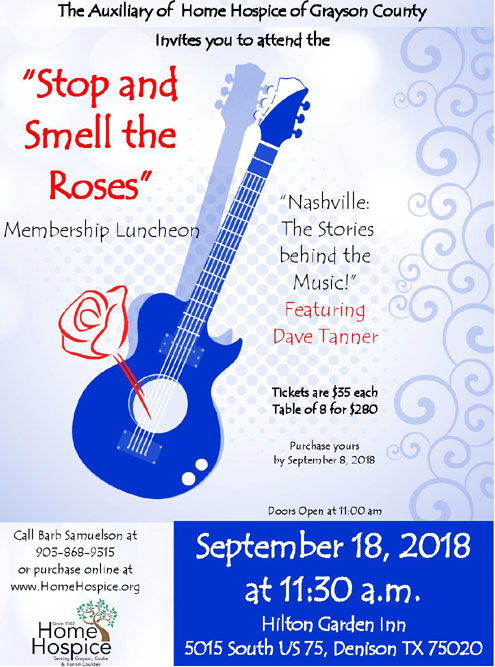 This event will start at 11:30 a.m. on September 18. Tickets are available for $35 for an individual ticket and $280 for a reserved table of eight. Deadline for ticket purchase is September 8, 2018. To purchase tickets, or to get more information, contact Barb Samuelson, Volunteer and Program Manager for Home Hospice and the Auxiliary's liaison at 903-868-9315 or barb.samuelson@homehospice.org
Home Hospice of Grayson, Cooke and Fannin Counties is a 501(c)(3) local community-based organization serving our communities for 35 years. Our mission is to provide the best care and support to enhance Quality of Life of our patients and their families. Since 1984, the Auxiliary has been helping to provide education in the community, raise funds for special programs and create awareness for those needing support at the end-of-life.
You can also visit www.homehospice.org or visit our Facebook page at www.facebook.com/homehospiceofgrayson