Entertainment
Fannin County hero - Derrell Hall
Jan 3, 2019
Fannin County, Texas -- When Derrell Hall drives to and from work every day from Mulberry Bottom to his job as adult probation officer in Bonham, Texas, he passes by the Fannin County AgriLife Extension Office that was named in his honor. On February 25, 2013, Fannin County Commissioners Court announced the new Fannin County AgriLife Extension Office would be named in honor of former Fannin County Judge Derrell Hall, a lifelong county resident.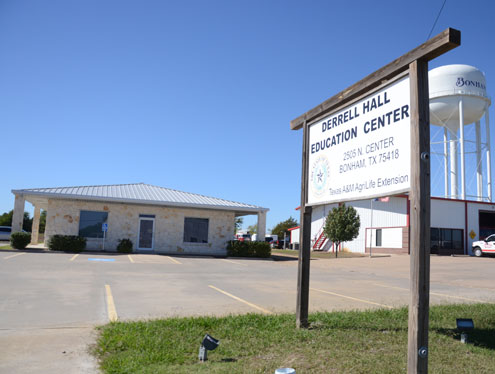 Mr. Hall has more than 34 years of service to Fannin County, including Fannin County Commissioner (1985-1992), Chief Juvenile Probation Officer (1993-1996), Fannin County Judge (1997-2007) and currently Adult Probation Officer.
Fannin County Judge Spanky Carter recalled his own years as an attorney representing clients across North Texas and southern Oklahoma and, in particular, the impression Hall made during the 10 years Hall served as Fannin County Judge. "I've never been in front of a judge who was fairer to everyone," said Carter. "He treated people the same. Derrell treated the defendants with respect; he treated the poor with respect."
"He was always easy to work with," echoed Bonham Mayor Roy Floyd. "He always wanted what was best for all the citizens of Fannin County. He has been a champion for Fannin County."
In his acceptance speech, Derrell Hall said, "I want to thank you for being here tonight. This building could just as easily have been named the Connie Aplin Building or the Carolyn McFarlin Building. I want you to know it is an honor to have this building named after me." Derrell Hall has worked with the Fannin County 4-H since the 1960s, and his family has been in Fannin County for four generations.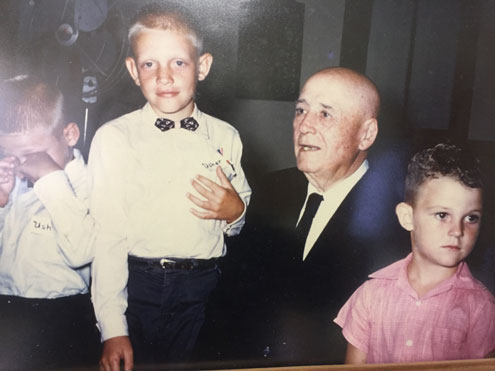 Darrell rubs his eyes while his brother Steven and Larry Baker enjoy Mr. Sam Rayburn's company.
Derrell Hall relates to people…on any level. While a juvenile probation officer, he realized that 75% of the children were a grade behind in school. And they rarely lived at home. He recalls a child whose dad was in prison as a sex offender. Darrell would pick the boy up at school each day and they'd have ice cream at Braum's, before Darrell would take him home. Proudly, Darrell tells about the same 30-year-old man who is now married with a 4-year-old child. He is a tugboat captain in Louisiana. The two have stayed in touch and talk on the phone once a month.
As former Fannin County Judge, Derrell is proud of the county jail that was built during his tenure. Also a proud accomplishment is the multi-purpose complex on Highway 56 West. He is proud that he and his commissioners "got the ball rolling" on the new lake. While in office, the county commissioners bought land west of town for the prisons.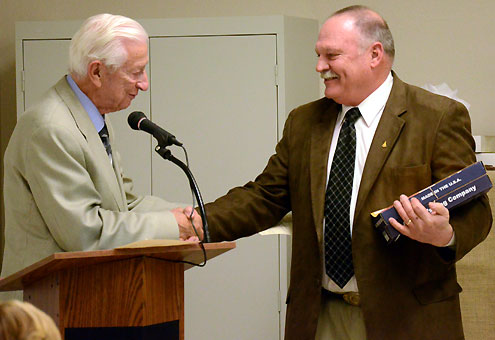 (L-R) Congressman Ralph Hall and Derrell Hall
Derrell Hall's heart oozes with compassion. On May 4, 2018, an elderly gentleman lost his wife. The widower has no siblings or children. He's all alone. Four nights a week, Derrell stays with the man. When Derrell drives into the driveway those four nights, the man greets Derrell like an excited puppy would greet its master.
Additionally, a 1971 Bonham High School classmate of Derrell's now resides at a Bonham nursing home. Derrell and his wife Judy bring the friend to their house for Thanksgiving and Christmas every year.
Interestingly, Derrell's mother had the same compassion for people. She was a nurse at the V.A. Center in Bonham, and she always took special care of the veterans. She always said, "It costs nothing to make a big difference."
As a lay preacher, Derrell Hall has officiated countless funerals and many weddings. He is a member of the Mulberry Methodist Church and has had to say goodbye to many of the members through the years.
For the past 21 years, Derrell has coached basketball, baseball, softball, and pee wee football. He teaches his children, grandchildren, and great grandchildren that serving isn't always an easy task. He encourages them to help those who can't return the favor. It's one thing to tell children to serve, but to be an example of it is the clearest way for them to understand its importance. Serving isn't just about people; it's about looking after the planet God created. Derrell encourages his grandchildren to pick up trash at school that others have left behind.
Sometimes serving is about emotional reactions. It can be hard to swallow pride, but teaching humility will help nurture a servant's heart in your child. Derrell wants his grandchildren to be compassionate to those around them, and sensitive to others' needs more than their own. He believes it will set them up in the future to love, respect and serve their community.
Derrell Hall came from a salt-of-the-earth family, and he and his wife Judy still reside on that same earth. Until the day he retires to that land where he can ride his tractor and count the cows, Derrell Hall will continue to open his heart and his home to those in need. He is a true Texoma Hero.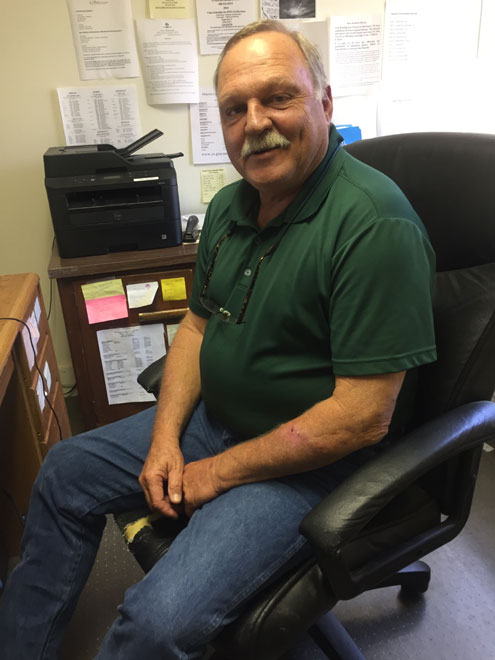 Derrell Hall, adult probation officer