School News
Lone Finalist for Superintendent of Wolfe City ISD named
Jul 17, 2018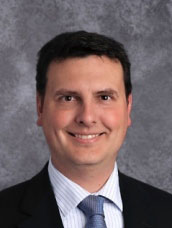 Wolfe City, Texas -- It's official! Anthony Figueroa has been named as the Lone Finalist as Superintendent of Wolfe City ISD. Currently serving as Principal of Blue Ridge High School, he began his educational career in 1998 teaching high school science. Throughout his 21-year career, Mr. Figueroa has served students at all levels as a teacher, assistant principal, and principal.

An energetic educator, he constantly seeks ways to improve instruction. His creativity, encouragement and love of learning affords his staff and students positive leadership through goal setting and the attainment of those goals. As one of his staff members stated, "He's a former science teacher and his wealth of knowledge of teaching methods, classroom management, and curriculum astounds me."

Figueroa stated, "My family and I are excited and honored to join the Wolfe City ISD family and we are eager to move in the upcoming month. I am extremely impressed with this School Board and with all those families who I have connected with over the past three years. In order to best serve this amazing community and district, I plan to build authentic relationships, be transparent in all we do, and to build upon successes through teamwork."

Wolfe City ISD looks forward to Mr. Figueroa's outreach to the community, parents, students, and staff as the new school year begins. He along with wife Carie and sons Oscar and Max will be attending the Wolfe City Board of Trustees meeting on Wednesday, July 18 at 7:00 in the Sydney Wasson Multi-Purpose Center.