Local News
Live gas line rupture drill July 17 highlights Paris safety event
Jul 16, 2018
Paris, Texas -- CoServ, Atmos Energy, CenterPoint Energy, ONEOK, Plains All American Pipeline, City of Paris Fire, Police, and EMS, Enertech, the North East Texas Damage Prevention Council, Texas811 and others will present the video and photo friendly Mock Line Strike and Pipeline Response at the Love Civic Center, 2025 South Collegiate, Paris, TX 75460 , Tuesday, July 17, 2018 from 8:00 a.m. – 10:00 a.m.
This free event brings first responders, utility, oil & gas, municipal, and county personnel together to take part in dynamic hands-on scenario safety training.
A Pipeline Response class will be held at 8:00 a.m. This class covers northeast Texas information about pipelines, product properties, response information and local pipeline operators' contact information for first responders.
At 9:00 a.m., attendees will have the rare opportunity to experience a mock natural gas line strike showing what happens when a natural gas line is struck by mechanized digging equipment, and what steps need to be taken in the immediate aftermath. You are urged to be set up in position by 8:45.
Kinder Morgan and Paris first responders will work together in a unified command to control the incident. (The line is actually pressurized with air for this event to simulate natural gas).
Here is a photo of the moment the line is hit.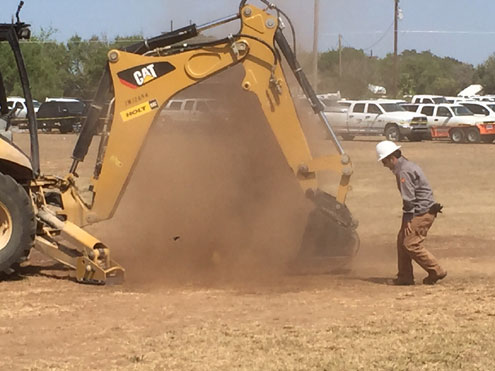 "Striking a natural gas line is not something anyone wants to take lightly," says John Sparks, Damage Prevention Manager with Texas811. "Should it happen, you literally have only seconds to make decisions that could save your life. As partners in safety, pipeline companies value the unique skills and expertise of the emergency responders. Working through this scenario, we all gain hands-on experience and learn from each other in the process."
Interviews are available with representatives from Enertech, Texas811, Paris first responders, Kinder Morgan and others.
About Texas 811
Texas811 was formed in 1984 as Texas Excavation Safety System, Inc. and was the first statewide one call notification center in Texas. During the past 30 years, we have grown into the largest, and arguably most experienced, one call notification center in the world, exceeding well over 3 million locate requests annually. In addition to Texas, Texas811 provides one call services in South Carolina, South Dakota <http://onecall.sd.gov/>, New Mexicoand West Virginia <http://www.wv811.com/>. Texas811 is a 501 (c) 4 non-profit organization. Texas811.org
About Enertech
Enertech specializes in API RP 1162, CFR 192 and CFR 195 public awareness, damage prevention and integrity management programs for natural gas distribution, gas transmission, gas gathering and hazardous liquid pipeline companies. Innovation. Service. Experience. These are the driving forces behind the services, programs and products Enertech provides. http://enertech.com/
About Pipeline Response/Mock Line Strike
This is a collaboration between Enertech and Texas811. It covers a complete excavation lifecycle from making the one-call, line locating, proper excavation tactics, line strike and emergency operator response to the line strike. The forum is set on an excavation site and representatives from each stakeholder group speak on each topic during the excavation lifecycle. www.diggingtexas811.com