Front Page
Trident Lakes manager allegedly charged with money laundering
Jul 7, 2018
Fannin County, Texas -- According to a major media source in Dallas, the manager of a supposedly exclusive doomsday community located on State Highway 56 between Ector and Savoy in Fannin County has been charged with two counts of money laundering and one count of conspiracy to commit money laundering.
Court documents secured by CBS 11 News indicate that John Eckerd, 54, a resident of McKinney, Texas, along with an unidentified co-conspirator, reportedly accepted $200,000 in drug money from undercover FBI agents and later agreed to launder $1 million in narcotic proceeds through the 700-acre residential project named Trident Lakes.
Eckerd has been out on bail since March and a U.S. magistrate judge has granted a continuance, an indication that negotiations are underway which could resolve the charges.
According to a press release in January 2017, "The five-year, $300 million project will feature luxury living via a championship golf course, 5-star spa, sports courts, 15-acre blue lagoons for water sports, jogging trails, gun ranges, equestrian center, restaurants and retail shops. The heart of Trident Lakes will be safety and sustainability. The property will be protected by a security wall which will enclose approximately 400 reinforced, subterranean luxury condominiums ranging from 900 to 3,600 square feet, communal greenhouses, a navigable tunnel system, DNA vault and helipads. It will also feature off-the-grid supplies of food, water and electricity."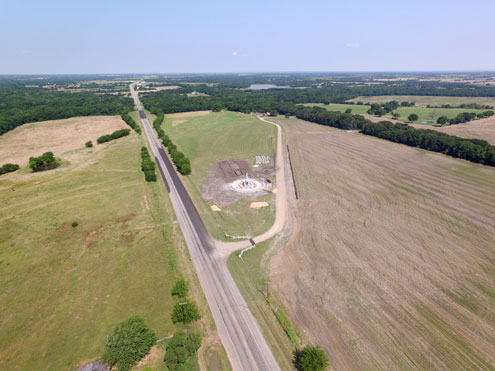 photo by Kyle Porter
"It's a five-star playground with DEFCON 1 preparedness," said a Trident Lakes spokesman. "Our residents will enjoy a piece a paradise and peace of mind."
If the FBI charges have merit, Trident Lakes turns out to be the latest controversial investment scheme by Eckerd.