Lifestyles
Bonham Special Olympics attends state Special Olympics track meet
Jun 12, 2018
With the help of generous donations by local businesses, civic clubs, and indivuals Bonham Special Olympics attended the state Special Olympics track meet at U.T. Arlington. Twenty-three athletes from various schools in Fannin County attended the meet. The athletes were treated to special times by attending Medieval Times, Alley Cats Fun Center, and the movies. While we enjoyed breakfast at the motel, and a picnic lunch at the track, for dinner the athletes were treated to Chiliís, Cracker Barrel, Babeís Chicken House, and Ciciís.
Aside from wanting these athletes to experience competition and push themselves to do better while learning to cope with disappointment or rejoice in success, our goal is to allow them to experience opportunities outside of Fannin County and have a taste of what a vacation would be like. They cheered on the knights at Medieval Times, bowled and played laser tag. They worked on social skills and manners at various restaurants. They splashed, giggled, and reveled in the motel pool.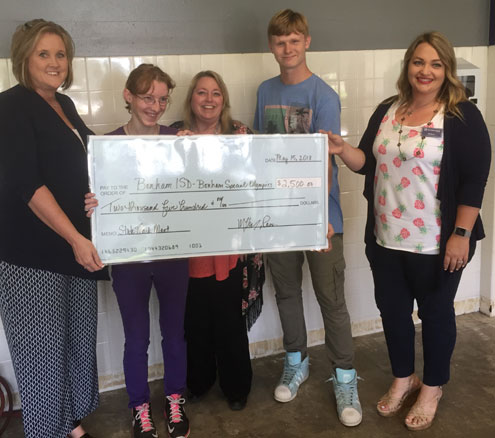 First National Bank of Trenton employees present a $2,500 check to help Bonham Special Olympics attend the state Special Olympics track meet at U.T. Arlington. (L-R) Angela Underwood, First National Bank of Trenton VP/Fannin County Branch Manager; Keri Ingram, Honey Grove, Special Olympics; Sheryl Stanley, First National Bank of Trenton SVP/Loan Officer; Corey Richter, Bonham, Special Olympics; Mallory McBroom, First National Bank of Trenton AVP/Assistant Branch Manager
All athletes received one to three medals for events. Keri scored the highest number in points in the female pentathlon, making her the top female athlete at state. We had athletes competing in the 50 Meter walk, 50 Meter race, 100 Meter walk, 100 Meter race, the 200 meter, and 400 M walk as well as five 4 by 100 M relays. In field events, we had athletes in the softball throw, standing long jump, running long jump, turbo jav, and shot put. Our three that participated in the pentathalon competed in the 100 M, 400M, shot put, running long jump, and high jump; all 5 events for one medal based on points. Both Corey Richter and Tyler Reynolds scored personal bests with all-time personal high schools.
We appreciate each and every person, business, and civic group that supported us and allowed each athlete to attend the meet! We are already planning for new and different experiences next year!